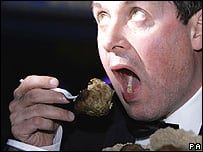 This little stunt was, in my opinion, absolutely inspired. A couple of disclaimers before I embark on this, because I have a suspicion that it might create just a little bit of controversy: 1) The dog died of natural causes. 2) The artist is normally a vegetarian. OK, here we go: A British performance artist by the name of Mark McGowan was so outraged by the RSPCA's failure to prosecute Prince Philip after he allegedly watched a member of his hunting party beat a fox to death with a flagpole, that he cooked and ate a Welsh Corgi dog in protest (the Royals are famous for their love of corgis). Here's what Mark had to say:
"We love our animals in Britain. Why is it then that we then allow people – especially people who are supposed to be ambassadors for this country – to treat animals with such disrespect?"
McGowan, who said he waited five months to obtain a corgi who had died of natural causes at a breeding farm (well, as "natural" as you can get at a place that breeds dogs—but that's an issue for another time), effectively made the point that there is a massive double standard when it comes to the way we perceive animals: Why would the Royal Family, who are so openly upset when one of their corgis dies, have absolutely no qualms whatsoever about hunting down foxes and, apparently, beating them with flagpoles? And, by extension, why do people who wouldn't think twice about stuffing their faces with pork chops or fillet of fish get up in arms when they learn that someone has eaten a dog? I think these are really important questions, and I think that Mr. McGowan's stunt is an incredibly compelling way of raising those questions. What do you think?
You can read the BBC's coverage of the story here.