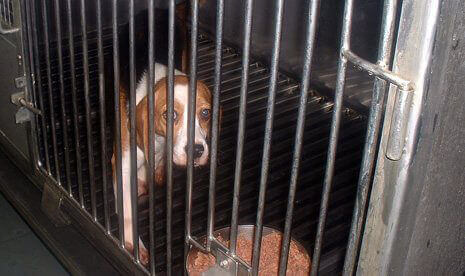 In laboratories like this one operated by Iams and the breeding facilities that supply them, beagles are abused in ways that would warrant cruelty charges if the dogs lived with a family.  
 
U.K.-based Harlan Hillcrest Farm—a facility that bred thousands of beagles in deplorable conditions before selling them to be abused and killed in cruel experiments—is closing after being besieged by advocates for animals.
During their time at Harlan, dogs were confined to tiny wire mesh cages that were spray-washed just once a month. They were only allowed out of the cages for 20 minutes a week. A former animal technician at Harlan reported that workers wrote curse words on the beagles' faces, shaved pictures into their fur, and punched and kicked the dogs.
And the problems for Harlan don't end there: Last week, the company also announced that it was laying off more than 100 people at one of its Swiss facilities—which breeds and conducts cruel tests on mice, rats, rabbits, hamsters, dogs, and pigs—because business is hurting.  
Bad news for Harlan is great news for animals. 
While PETA and other animal organizations work to shut down laboratories and their animal suppliers one by one, you can help by buying cruelty-free products and letting companies that experiment on animals and that do business with companies like Harlan know why you won't be a customer.
 
Written by Michelle Sherrow