"What is a heterosexual meat eater like me doing in a place like this?" asked James Carville, in his own living room last night. "Well, like everything else, you can blame it on Bill."
Remember the party that political powerhouses James Carville and Mary Matalin were gonna throw for PETA VP Dan Mathews? To make a long story short, after hitting it off with Dan at a dinner for Bill Clinton recently, Carville and Matalin decided to host a party to launch Dan's awesome new book, Committed: A Rabble-Rouser's Memoir. Well, the party was last night and it sounds like it was a blast.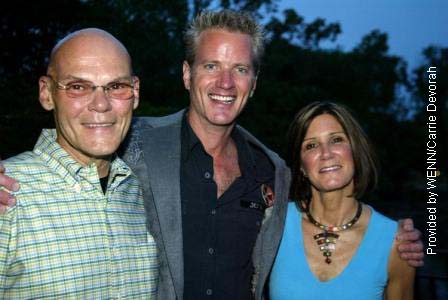 The soiree attracted Capitol Hill folk from both ends of the political spectrum, including Democratic big wig Rep. Rahm Emanuel, Bush speech writer John McConnell, a gaggle of gay Washington scenesters, and even well-known Friend of Bill, Steve Bing, who flew in from Los Angeles just for the event. After introductions by Matalin and Carville, Dan got things started by saying, "Although PETA is a nonpartisan organization, we are hardcore party animals." And in typical Dan Mathews style he made sure the cocktails at the vegan dinner party were made with Beefeater. Love it.
I guess my invitation got lost in the mail, huh Dan?