© Star Max Inc.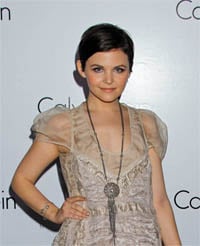 Can the third wife of a polygamist ever be happy? According to HBO's Big Love, it depends on the episode.
But the ravishing Ginnifer Goodwin, who plays Margene on the acclaimed series and who is radiantly vegan in real life, knows that there's no happiness to be found for the drugged-up, distressed cows who are treated as nothing more than milk machines in dairy factories.
That's why she wrote to the Federal Trade Commission (FTC) urging them to rule in favor of PETA's complaint alleging deceptive practices by the California Milk Advisory Board (CMAB) in its "Happy Cow" ad campaign.
"In show business, we often have good reason for making people believe things that aren't true, but there is no excuse for the CMAB's misrepresentation of the milk industry," writes Goodwin. "[C]onsumers deserve better than to be fed cheerful lies about 'happy cows.'"
Like Ginnifer, millions of caring people have seen through the milk industry's deceptions and decided to dump dairy.
Written by Karin Bennett