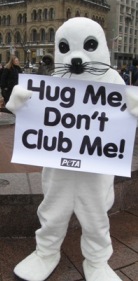 This Sunday, March 15, is International Day of Action Against the Seal Slaughter. Why it's not on all the calendars between Purim and St. Patrick's Day, we'll never know, but, hey, we're doing our part to get the word out.
OK, so this event is big—international, even, as the name suggests. Animal protection groups of all sizes from all around the world have lots of things planned for Sunday. But you don't need nonprofit status to get in on the action. In fact, all you need is your own dang self—or just a group of your like-minded BFFs. Here are some entirely do-able ways to become an action hero for seals:
And that's just for starters. For more ways to be an action hero for animals all year 'round, click the "Get Active" link at the top of this page and check out our Guide to Becoming an Activist—that is, if you're ready to become a superhero!
Written by Jeff Mackey