In yet another blatant illustration of the cruelty and stupidity of using animals for entertainment, a bystander recorded the breathtaking moment that a bear forced to perform in the circus finally snapped at a show in Syktyvkar, Russia.
https://www.youtube.com/watch?v=pHlxBfyrj9Y
Before lunging at and knocking over the handler, the bear can be seen being dragged around the stage by a rope tied to his muzzle. While the handler was setting up for another trick, the bear found a moment to send a loud and clear message to him: "I don't belong here."
Of course, for defending himself against the tedious and uncomfortable life of performing that he's forced to endure, the bear is struck hard in the face with a stick. The bear flinches and quickly goes back to twirling on his hind legs, in fear of being beaten again.
This video shows the cruelty that animals used for entertainment experience.
Animals are beaten, shocked, and whipped to make them perform tricks—over and over again—that make no sense to them. It doesn't get clearer than this. Animals do stupid, confusing tricks out of fear of the abuse that they'll be subjected to if they don't perform. They deserve respect and the freedom to express their natural behavior.
We know all too well how bears are trained for circuses.
When a PETA Asia investigator visited circuses and animal-training facilities in Suzhou, China, the eyewitness revealed that bear cubs are chained by their necks and tethered to a wall. This forces them to remain upright, sometimes for hours on end, in order to train them to walk on their hind legs. Some cubs are tethered by a short rope to a hook in the ground, making it impossible to move more than a few inches in any direction.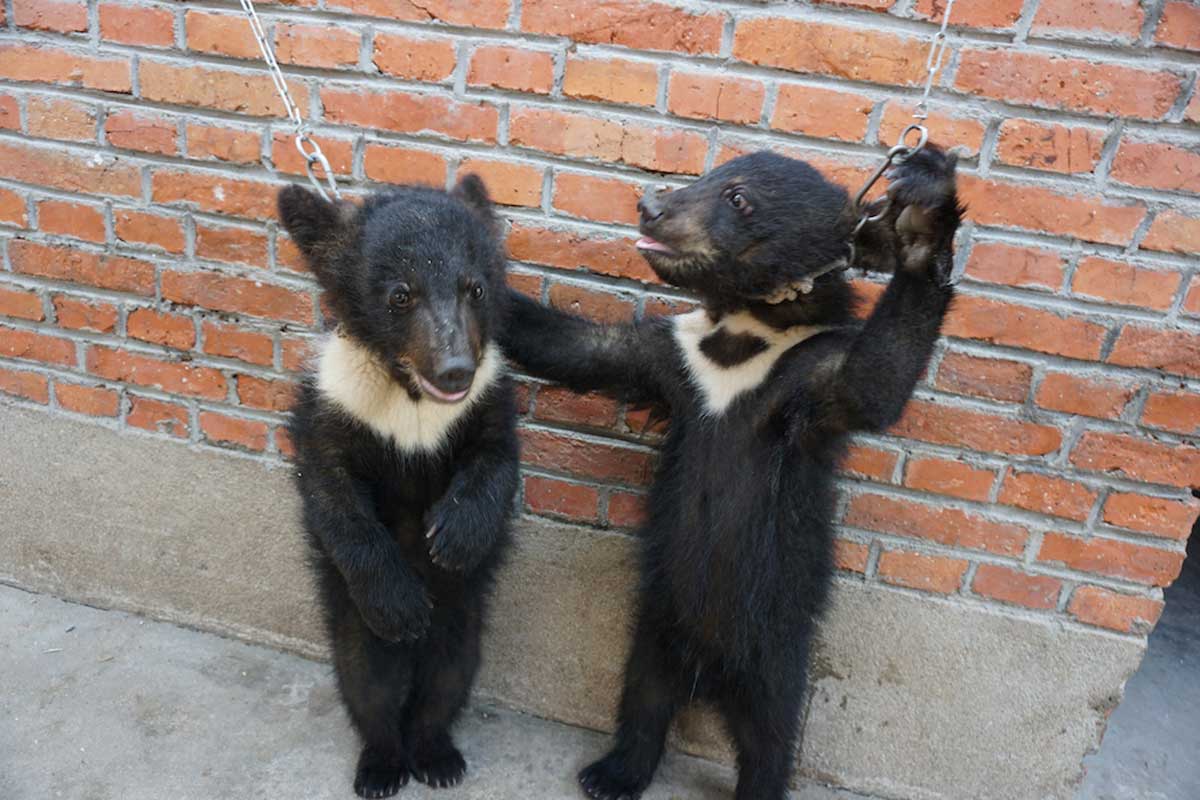 In these spirit-breaking sessions, they're forced to jump over objects, walk on their hands, and perform other confusing tricks. When they resist, trainers yank on and drag them by their neck ropes, grab them by the fur on their backs, yell at them, and force them to continue. If they make a mistake, they're hit with a stick.
Bears are complex, far-ranging animals who require opportunities to roam, swim, and forage. In nature, they're physically active for up to 18 hours a day and spend their time exploring diverse terrain.
In bear shows, they're forced to travel countless miles to be put on display, unable to satisfy their most innate and natural instincts. It's no wonder that captive bears have been known to lash out in frustration by biting, mauling, or otherwise attacking handlers and members of the public.
What You Can Do
Animals aren't actors, spectacles to imprison and gawk at, or circus clowns. Yet thousands of them are forced to perform meaningless, confusing tricks under the threat of physical punishment. Please join PETA in taking a stand for animals used in entertainment.