This weekend, the District of Columbia's historic Georgetown district hosted Georgetown GLOW—an outdoor art installation featuring lighted works by several international artists. It was part art show, part street theater, and part holiday festival—so of course, PETA had to be a part of it! In keeping with the theme of the event, we created our own glowing display of protest signs and stationed ourselves outside BCBG Max Azria's Georgetown shop to warn shoppers not to darken the retailer's door.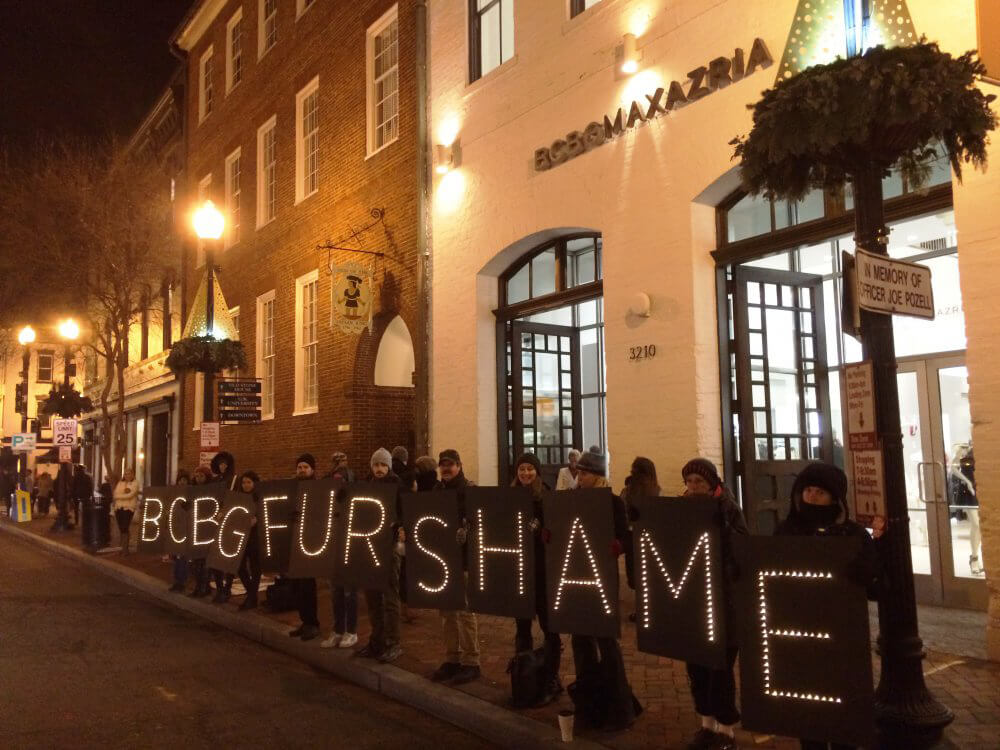 In case this didn't make our point clearly enough, other PETA members distributed leaflets and one protester wore a body-screen TV airing video footage of animals being tortured for angora wool and raccoon dog fur—both of which BCBG continues to sell, despite a public outcry over the cruelty involved in these products.
https://www.youtube.com/watch?v=pHkuIDr7UVs
PETA Asia investigators documented workers on angora rabbit farms in China—the source of 90 percent of the angora sold around the world—who tied rabbits down and ripped out their fur, leaving behind raw and inflamed skin and bloody wounds, while the animals screamed in pain. Video footage from Chinese fur farms also shows workers who slammed raccoon dogs into the ground and beat them before peeling off their skin. One animal even lifts her head and blinks after her skin was removed.
Calvin Klein, Tommy Hilfiger, Ann Inc., Inditex, L Brands Inc., H&M, Gap Inc., Victoria's Secret, and dozens of other retailers have completely banned both fur and angora from their stores. So what the heck is BCBG waiting for?
What You Can Do
Tell BCBG that fur and angora give you the heebie-jeebies and that you won't be shopping there until it gives both the BOOT.