Ringling Bros. and Barnum & Bailey Circus arrives this week in Bridgeport, Connecticut, which was once the circus's headquarters. P.T. Barnum called the city home and even served as its mayor, and the city now features a Barnum museum. But the local paper hopes that animal acts will soon be relegated to Ringling history.
The Connecticut Post has published an editorial calling for an end to the use of animals in circuses. Says the Post, "[C]haining these animals up, wresting them from their families, parading them through the streets, and forcing them to perform for our amusement is, at the least, inhumane. A better word would be 'cruel.'"
The editorial praises PETA's campaigns against Ringling, stating, "PETA has been known through the years for outrageousness in their demonstrations against animal cruelty …. This time, there's nothing over the top about their tactics. Representatives are simply touring the nation, displaying incontrovertible evidence of how elephants are broken and 'trained.'"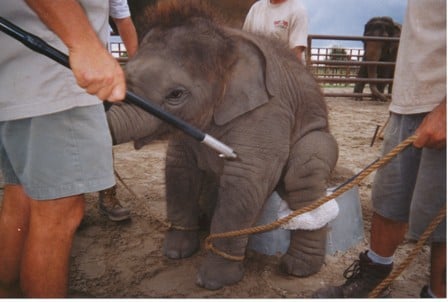 Please thank the Connecticut Post for speaking up for animals, and then urge federal officials to seize the elephants Ringling hauls around the country in boxcars and forces to perform under threat of punishment. 
Written by Jennifer O'Connor