I just heard about this awesome protest that went down in The Hague, Netherlands, yesterday. Or, I guess that's Den Haag for all of you cultured folk out there. Anyway . . .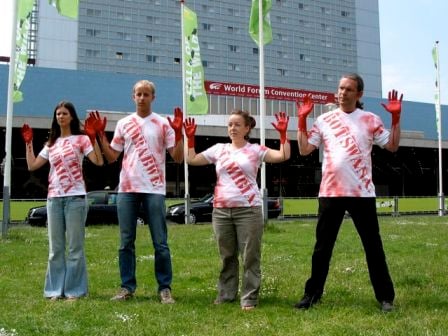 It was at the Convention on International Trade in Endangered Species of Wild Fauna and Flora (CITES), where South Africa, Namibia, Botswana and Zimbabwe supported proposals to kill 13,000 elephants per year to sell the ivory from their tusks. The activists wore T-shirts with the name of an offending country on them and smeared blood on their hands to point out that any country not on board with the ivory-trade moratorium has the blood of elephants on its hands.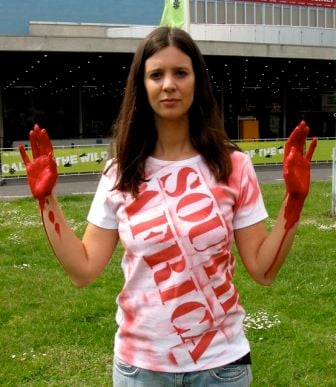 It wasn't all doom and gloom for our fine pachyderm friends though, as Kenya and Mali put forward their own proposal asking that the ivory-trade moratorium be extended for another 20 years, and this proposal has already garnered the support of more than 20 other African nations.
Props to Animal Rights Africa and PETA Europe for the great demo. I'll let you know as soon as I hear the outcome of the meetings.