Was Bones guilty of manslaughter? We may never know for sure, but what we do know is that he deserved better than winding up in a shallow grave in a "rehabber's" backyard.
Exactly how the 130-pound dogo Argentino died is still a mystery, but this much we know: His suffering may only have been prolonged by The Lexus Project, a "no-kill" organization that seeks to gain custody of dogs who have been involved in an attack (or multiple attacks) serious enough to warrant a court order to confine or euthanize them.
Bones was believed to have been involved in such an attack. He was found alone in his guardian's apartment with the body of the guardian's roommate, who had died after sustaining bite wounds. After Bones languished for months in a cage as a result of legal wrangling, The Lexus Project gained custody of him and shunted him off to a so-called "rehabber" in Toledo, Ohio. Less than two years later, Bones was dead.
The rehabber claimed that Bones had been "stolen" while she was attending a funeral. However, nine months later, members of The Lexus Project, acting on a tip, discovered Bones' remains buried in the woman's backyard. The group believes that he had become ill and been denied veterinary care, eventually starving to death.
Dogs crowded in a garage at a "no-kill" shelter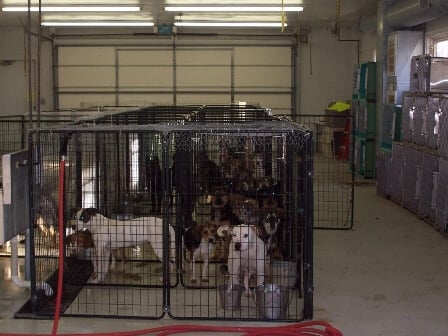 PETA is calling for an investigation into Bones' death and for appropriate cruelty charges to be filed. But part of the blame in cases like this one lies at the door of "no-kill" groups that are so anxious to save animals at any cost that they fail to screen adopters, volunteers, and "rescues" properly before placing vulnerable animals with them—and the animals end up paying the ultimate price. This isn't "saving" animals. It's betraying them.