Tropical Storm Ondoy caused severe flooding in many areas of metropolitan Manila last weekend. While PETA Asia-Pacfic's Manila office survived Ondoy intact and local staffers and their animal companions are safe, the storm caused massive damage.
As many of us remember from Hurricane Katrina, animals are often left in desperate situations after disasters, and PETA Asia-Pacific staffers, along with members of the Philippine Animal Welfare Society (PAWS), have been busy rescuing animals in distress.
Photo Credit: PAWS
The groups set out in a pickup truck to search local neighborhoods for animals stranded by the floods (some animals were trapped on rooftops after swimming there) and deliver food to guardians of hungry animals.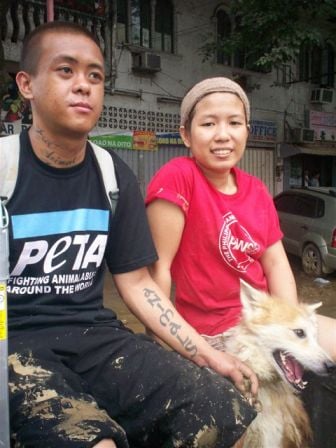 PAWS—with which PETA Asia-Pacific works closely year-round on issues such as spaying and neutering and stopping the introduction of greyhound racing to the Philippines—has also opened its shelter as an evacuation center for companion animals affected by the storm.
Tropical Storm Ondoy provides a sobering reminder that we all need to plan ahead to ensure the safety of our animal companions during natural disasters. You can learn more about preparing your companions for storms and other disasters here.
Written by Jeff Mackey