In August 2012, PETA was contacted by a whistleblower who had been volunteering for several months as an animal care assistant for a licensed wildlife rehabilitator operating out of her Florida home. Cruelty Investigations Department staffers urged the whistleblower to document her report that ill, injured, and orphaned wild animals taken into the home were living in utter squalor and that the rehabilitator left animals to languish without food or water.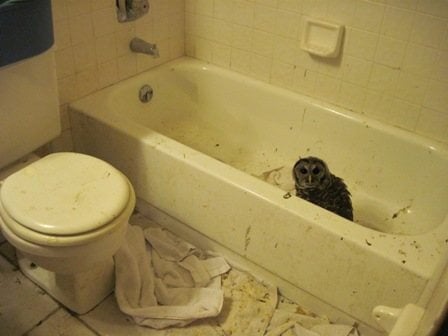 Wretched 'Rehab'
The shocking conditions depicted in footage taken by the whistleblower over the course of three weeks included the following:
A hairless baby raccoon was lying on top of a scale, inside a cluttered office without heat or bedding. Two days later, the same animal, then near death, was in the same place.
Numerous baby squirrels, rabbits, and raccoons were stashed inside boxes or on top of the boxes with no obvious heat source. Later, the animals were in the same spots, badly dehydrated and dying—or dead.
A live juvenile squirrel was wrapped inside a plastic bag and stashed behind several boxes.
The rehabber's refrigerator contained, at times, 30 or more unwrapped bodies of juvenile rabbits, squirrels, and raccoons inside the door and in tubs.
A barred owl was stranded in a bathtub, surrounded by her own waste.
Turtles were kept for days inside boxes that didn't appear to have been opened, with no sign that the animals were provided with food or water.
A river otter was housed in a small pen with only a little kid's pool as a source of water for drinking and swimming.
About a dozen deer were penned inside a debris-strewn yard amid trash, animal crates, construction materials, and a boat.
Demanding Justice
PETA alerted state and federal wildlife officials, sparking an investigation whose findings corroborated the whistleblower's reports and led to the confiscation of numerous suffering turtles, tortoises, and birds.
With PETA pushing for action, the Florida Fish and Wildlife Conservation Commission filed 23 charges against the rehabber for animal neglect, improper animal housing, and unsanitary conditions. The state attorney's office also charged her with one count of maintaining wildlife in unsanitary conditions.
Following a plea bargain, the woman ceased the pretense of rehabilitating animals, and the survivors were removed from her care for release back into the wild or transfer to other facilities better equipped to meet their needs.
What You Can Do
Even well-meaning animal rescuers can become overwhelmed. Worse, many out-of-control hoarders use rescue as a pretext, causing massive suffering for the animals who fall into their hands. If you become aware of animals suffering in a supposed rescue or rehab facility, please document conditions with a camera or camera phone and report the perpetrators to local authorities.