As observances of September 11, 2001, take place across the country, PETA thinks back to all the cats, dogs, birds, hamsters, fish, and other companion animals who waited in vain for the return of their loving guardians who lost their lives that day. Especially the ones trapped inside apartments in the cordoned off "Red Zone." PETA received call after call from people desperate to reach their dearly loved animals after being barred from returning to their homes. PETA immediately dispatched a rescue team to New York.
PETA Vice President Daphna Nachminovitch—who took a PETA team from Norfolk, Virginia, to New York right away—will always remember the destruction and despair. "It was total chaos and heartbreak," she recalls. "We struggled to get through various barriers and roadblocks to reach animals who needed us—and whose guardians were desperate for us to retrieve them. We were able to get some building superintendents and firefighters to bring some of the animals out, but most perished. We were also able to care for traumatized animals at an impromptu rescue center and managed to reunite a person here and a person there with their beloved animals. It was a trip that will forever remain burned into our brains."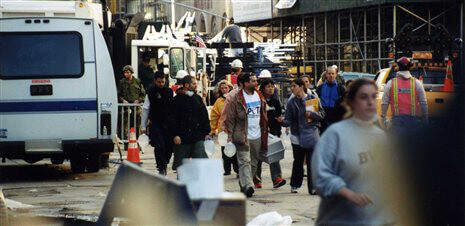 PETA's Emergency Response Team also rescued more than 100 turtles from a market in New York's Chinatown. And PETA was on the ground following the attack on the Pentagon, supplying dogs who were searching for survivors through the broken glass and twisted metal with protective booties.
September 11 was a harrowing time for all beings, and one that continues to affect us as a nation. When you observe September 11 today, please think of all the individuals who suffered and died because of an act of hatred. Let's resolve to open our hearts as much as we can to everyone—regardless of race, color, species, gender, creed, nationality, or religion—every day.
Written by Joe Taksel