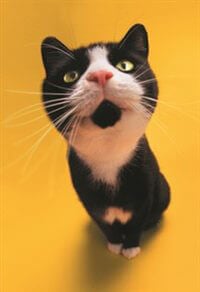 © Digital Vision/Cats & Dogs/Getty Images
In a trailblazing move that would earn tail-wagging approval from dogs everywhere, shopping mall developer Macerich has banned pet stores that sell animals in its more than 70 malls across the U.S. and is offering up the pet stores' old spaces as adoption centers for homeless animals instead. This compassionate decision follows another the company made at PETA's urging last year to ban the hideous "Pocket Pets" kiosks, which sell sugar gliders—tiny, exotic, nocturnal marsupials who often die as a result of improper care and the stress and loneliness of captivity.
Proving that one can make a difference, the pet-store ban is largely thanks to the efforts of California resident Jennifer Peterson, who informed Macerich that pet stores are essentially fronts for cruel puppy mills and worked with the company on a plan to evict the stores.
Hopefully, many other malls will follow Macerich's humane lead and ban sales of live animals. Each of us can help, too, by never buying animals from pet stores and giving a grateful dog or cat from a shelter a loving, lifelong home instead.
Written by Michelle Kretzer