The wait is finally over: The highly anticipated documentary Dominion is premiering in the U.S., and PETA will be in on the momentous events.

Directed by Chris Delforce and coproduced by Earthlings director Shaun Monson, this feature-length film takes a deep dive into every facet of animal exploitation and humanity's vicious supremacy complex over the animal kingdom. To narrate this emotional visual masterpiece, Delforce enlisted the best of the best—viewers can expect to hear from Joaquin Phoenix, Rooney Mara, Sia, Kat Von D and Sadie Sink.
Dominion will make its official U.S. debut on June 30 at the Animal Rights National Conference in Los Angeles (buy tickets here). Two more official U.S. screenings will be held in San Francisco (tickets) and New York City (tickets) on July 3 and July 5, respectively. Be sure to follow the Los Angeles, San Francisco, and New York City Facebook event pages for any developments, and click HERE to find a theater where Dominion is playing near you.
If experiencing arguably the most cutting-edge animal rights documentary to date isn't enough to draw you out to an official screening, you can also look forward to a special Q&A panel featuring the film's director and experts from PETA, which supplied some of the footage featured in Dominion.
This is Earthlings for a new generation of soon-to-be vegans.
Through footage from handheld, hidden, and aerial drone cameras—some of it never before seen—Dominion exposes the terrifying scale of the often secretive animal-exploitation industries and explores the individual stories of some of their victims. The film goes beyond asking for improved animal-welfare standards and pushes viewers to challenge the moral fallacies that society uses to justify exploiting beings that some humans judge as inferior.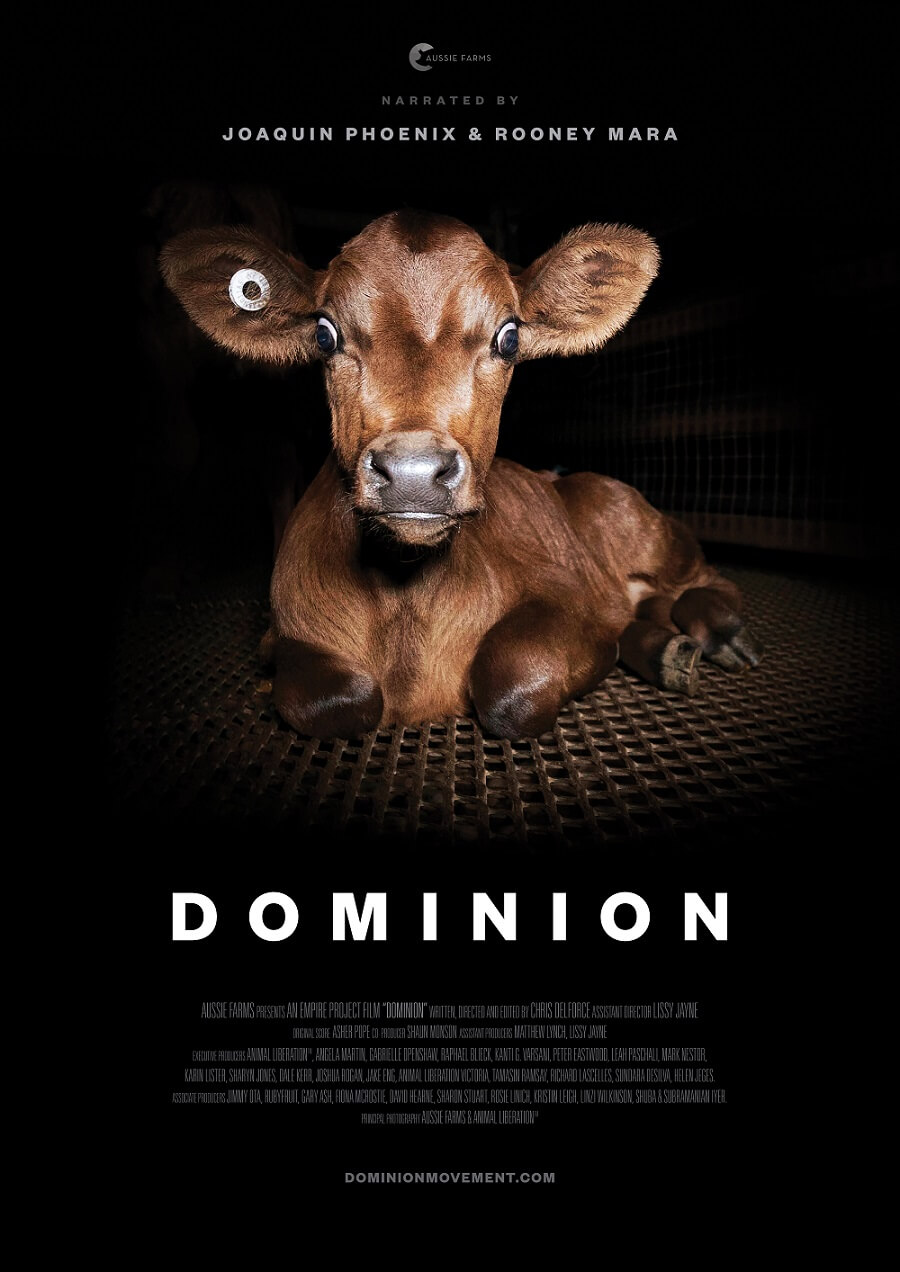 Whether focusing on animals raised for their flesh or their skin or those who are beaten and deprived so that they'll perform senseless tricks for humans, Delforce pulls no punches when revealing the bloody, cramped, dirty, and painful conditions that they endure in these industries. Dominion encourages people to reflect on their own relationship with who they may be wearing, eating, or using for entertainment. It's a great film for vegans to show family members and friends who are curious about why animal rights has become such an important movement in our time.
Be a part of the animal liberation movement today: Go vegan!
Living vegan goes beyond what we choose to eat, but leaving animals off your plate is the most effective way to save living beings every single day. You'll spare more than 100 animals every year a terrifying, painful death. Order a free vegan starter kit for tips on eating out, recipes, shopping guides, and more.
And even if you're already vegan, you probably have friends and family members who aren't—so remind them of the powerful impact that one person's choices can have for animals!