Would you willingly support animal "rescues" that keep dogs and cats in such squalor that they die from infectious diseases, dehydration, and emaciation?
Of course not. But here's the hard reality: Authorities raid self-proclaimed "rescues" almost weekly in the U.S. to save animals enduring severe abuse and neglect.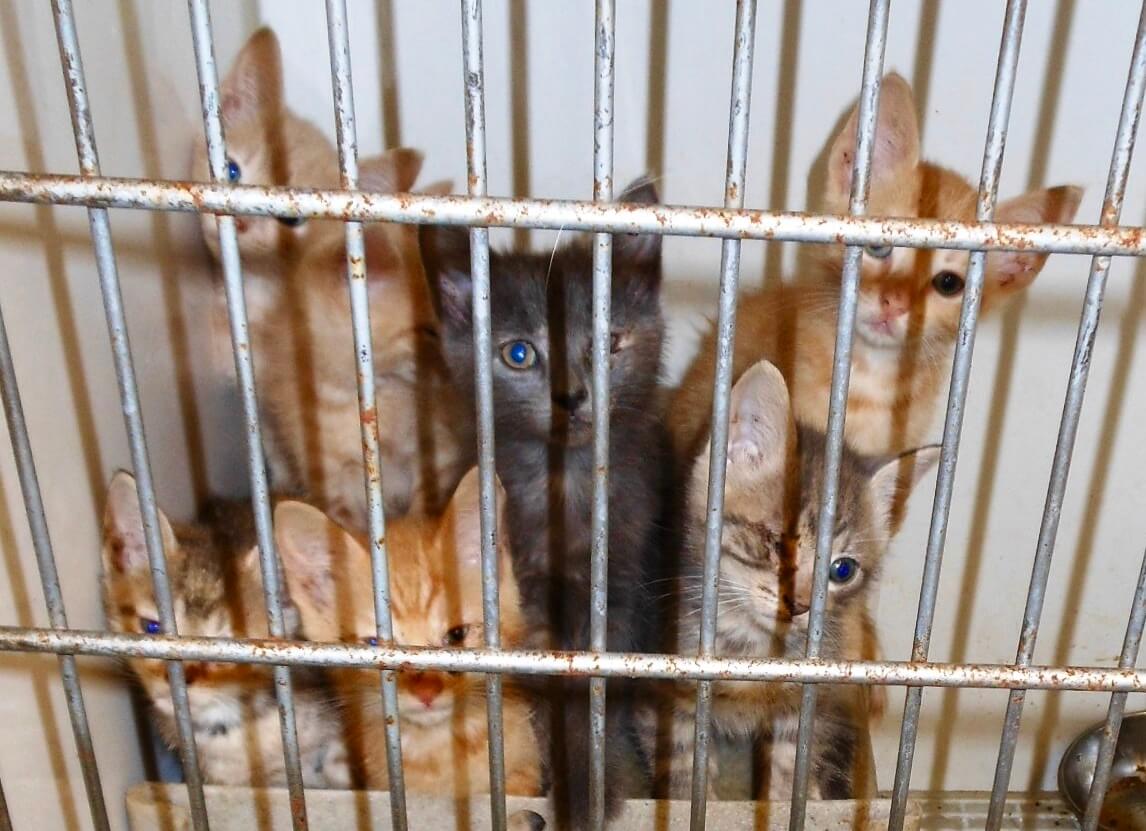 Just last month, 37 dogs and five cats were rescued from Catahoula Urban Tails (CUT)—a self-professed "rescue" in Louisiana—after authorities found them starving and in need of medical care. The hoarders had stacked the animals inside small, filthy cages, where they languished in their own waste.
According to a news report about the raid, animals suffered in a squalid warehouse without air conditioning when outside temperatures soared to 114 degrees. A volunteer told reporters that "water to the warehouse was routinely cut off due to the failure to pay the water bill."
"In my 20 years in the rescue community and as the director of two animal shelters, I have rarely seen such a complete disregard for life and an overall lack of care on every level."
—Stacey Alleman McKnight, Director of Pointe Coupee Parish Animal Services
Stacey Alleman McKnight, the director of Pointe Coupee Parish Animal Services, helped pick up the animals during the raid. She told reporters that one kitten had been living inside a birdcage. Three of the puppies who had been seized died only a few days later. Veterinary exams revealed that they were "extremely dehydrated, infested with fleas, anemic, [and suffering] from bloody diarrhea [and] internal parasites (a combination of round, hook, and/or whipworms)."
Animals housed in shocking conditions at Louisiana animal shelter https://t.co/EmOtHqYaGi

— WGNO (@WGNOtv) July 23, 2020
According to Alleman, every adult dog from the facility tested positive for heartworm disease. Nearly every kitten was emaciated, and two had severe eye infections. This horrific neglect occurred, even though a veterinary office was within walking distance of the warehouse.
In the same week, a report broke that California's attorney general had filed suit against Los Angeles–based Little Love Rescue. The establishment—operating as a self-professed "rescue" and adoption agency—has been accused of misleading donors and improperly soliciting donations.
California Attorney General Xavier Becerra has filed suit against a Los Angeles-based animal rescue and adoption agency for allegedly misleading donors and improperly soliciting donations https://t.co/UI7XW1EJLg

— CBS Los Angeles (@CBSLA) July 22, 2020
The group allegedly never registered as a nonprofit organization and apparently misrepresented the conditions of animals in order to solicit donations through online platforms.
California Attorney General Xavier Becerra said in a statement, "Unfortunately, charity rip-offs abound."
Animals will continue to endure neglect and abuse as long as people donate to, glorify, and promote those who call themselves "rescuers" without doing some research and due diligence.
Just days earlier in Ohio, authorities seized more than 200 animals from Alchemy Acres Animal Sanctuary—a self-professed "no-kill" shelter. Officials had found the animals hoarded in conditions described by prosecuting attorney DanaMarie Pannella as "absolutely horrific."
Deal reached in animal neglect case involving Alchemy Acres https://t.co/9Ffkg4eGEJ pic.twitter.com/mFmLQouAvV

— WKBN 27 First News (@WKBN) July 23, 2020
Panella also said, "The scope and the volume that need veterinary care is extremely overwhelming." Skin conditions, flea infestations, and emaciation affected many animals. Three of them died after they were seized.
Donations to "rescues" often aid and abet animal hoarders.
In the Louisiana case, the town of Jonesville not only allowed CUT to use a warehouse to hoard animals but also donated a vacant house to the group.
As recently as May 2020, the sham "rescue" announced that it had received a grant from a national nonprofit group whose donors surely contributed the funds in the belief that they would be used to help—not harm—animals.
They may never find out that their donations helped fund this nightmare for animals.
Don't be an abettor!
PETA tracks these shockingly common cases nationwide. Don't "like" or share content from any group that claims to "rescue" animals without careful consideration and research, and always follow these guidelines:
Help homeless dogs and cats by giving to local spay/neuter clinics that prevent animals from becoming homeless in the first place.
Animals are in need in every community—never give to distant "rescues" that you haven't visited in person, whose staff you haven't met, and whose financial statements are not readily available.
Use this guide to rate your local shelter. Each time you visit or volunteer there, come prepared with a form like this one to help you document conditions.
Remember that conditions at many busted "rescues" declined rapidly, leaving donors guilt-ridden with the knowledge that they aided them with well-intentioned donations and promotions.
Animals need us to get loud and stand up for them. They feel fear, anxiety, and sadness, just like humans. Imagine if you had to live every single day in your own waste, suffering from preventable diseases and parasites. Animals deserve better, and we can do better by them.