Sometimes working at PETA means being exposed to some pretty weird stuff—take for instance the latest issue of National Hog Farmer magazine. While it's always full of the latest news and gossip from the ever-glamorous pork industry, it was particularly interesting to see what they had to say about Smithfield's recent announcement that it is phasing out cruel gestation crates:
"…it appears that U.S. grocery stores and restaurants will do whatever they have to do to keep that PETA guy in the carrot suit from standing in front of one of their stores."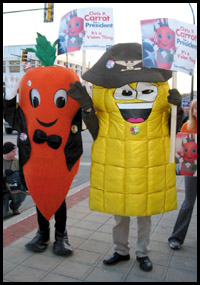 Well Mr. Witty Mc-Hog-Farmer is right, PETA's vegetarian campaign honcho Chris P. Carrot does have some clout, and while his 2004 run for President may have been unsuccessful, we here at PETA HQ—along with Mr. McCain and Mrs. Clinton as well I'm sure—are on the edge of our seats waiting to find out if he will throw his hat in the ring in 2008 . . .
Dare to dream Chris P. Carrot, dare to dream . . .