Earlier this month, 14 people reached the top of Mount Kilimanjaro, Africa's tallest mountain. Some were men, and others were women. Some were in their sixties, while others were less than 20 years old. Some were from the U.S., others from Norway, South Africa, and beyond. But there's one thing that all these climbers had in common: They're all 100 percent vegan.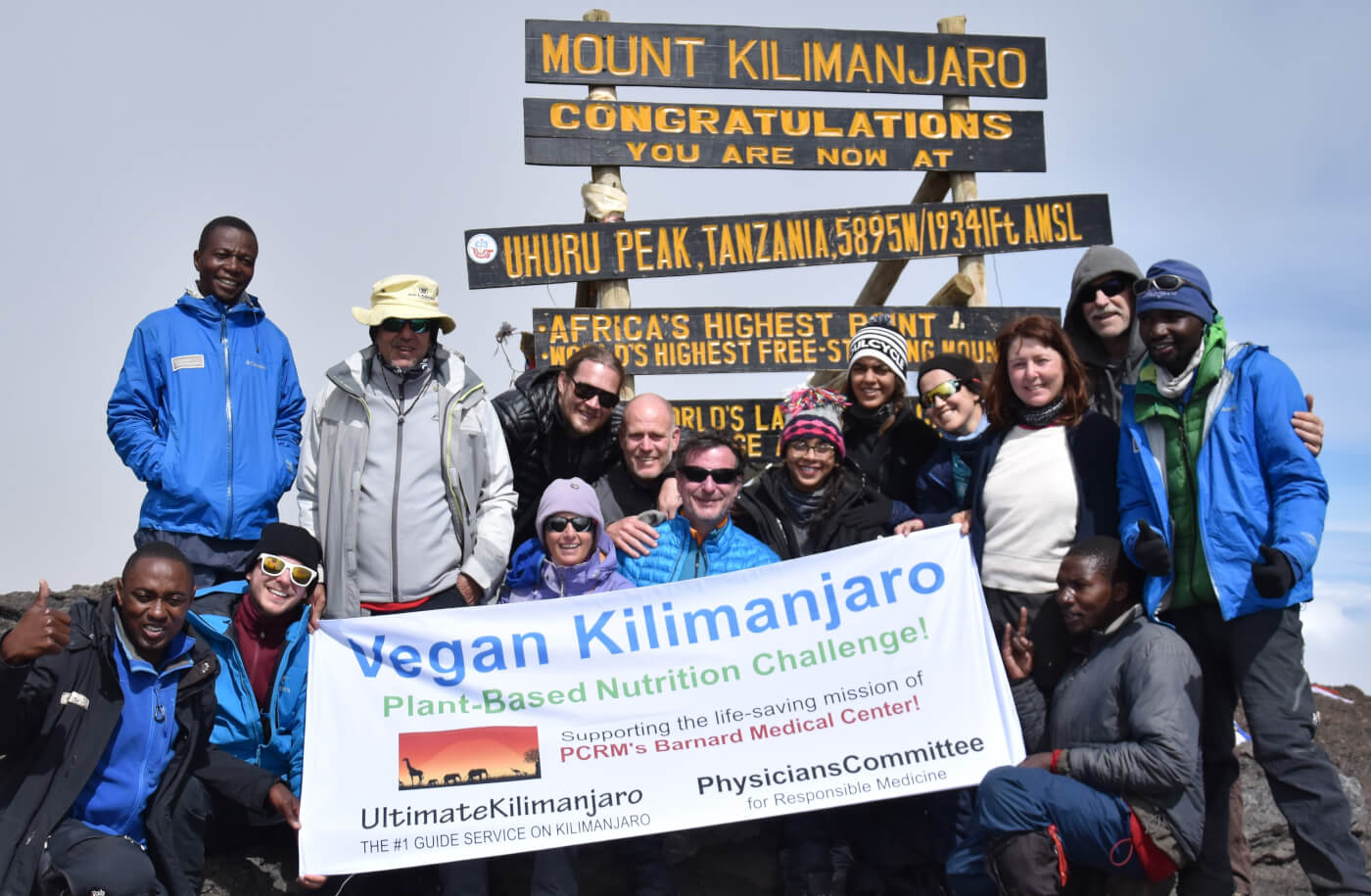 The epic trek was led by Mike Weinberg, a PETA member from San Diego, California. Weinberg's team was the largest—if not the first—all-vegan team to climb the nearly 20,000 feet to the top.
"It was the hardest thing we've ever done," said Weinberg, a 21-year vegan.
The team began the climb with 17 members, all of whom made it to the Barafu high camp, which sits at 15,000 feet. According to Weinberg, "That's 500 feet higher than Mt. Whitney, the highest peak in the lower-48 states." Fourteen of these climbers reached the summit. The average success rate of those summiting Mount Kilimanjaro in six days is 44 percent—but Weinberg's all-vegan team reached the top with an 82 percent success rate, proving that you don't need to eat animals to be a kick-ass mountain climber.
Congratulations and thank you to the first ever all-vegan expedition to climb Kilimanjaro! With the help of plant-based nutrition and all vegan gear, 90% of the team made it. #vegankilimanjaro #veganfit pic.twitter.com/MvtJvPQNlB

— Physicians Committee (@PCRM) March 12, 2018
The team's daily menu was impressive. Breakfast featured porridge, toast, cassava, baked beans, sweet potatoes, red yams, fried bananas, and fresh fruits. Lunch and dinner often included soup—zucchini, leek, carrot, onion, or mixed vegetable—as well as fresh fruits and vegetables, pasta, rice, chips, mashed potatoes, fried potatoes, and different plant-derived sauces. Team members also received tea, coffee, and juice, as well as snacks, including nuts and freeze-dried fruit. According to Weinberg, the menu was spot-on—simple, wholesome foods that got everyone through the long, challenging hikes. Click here to read more about the team's meals.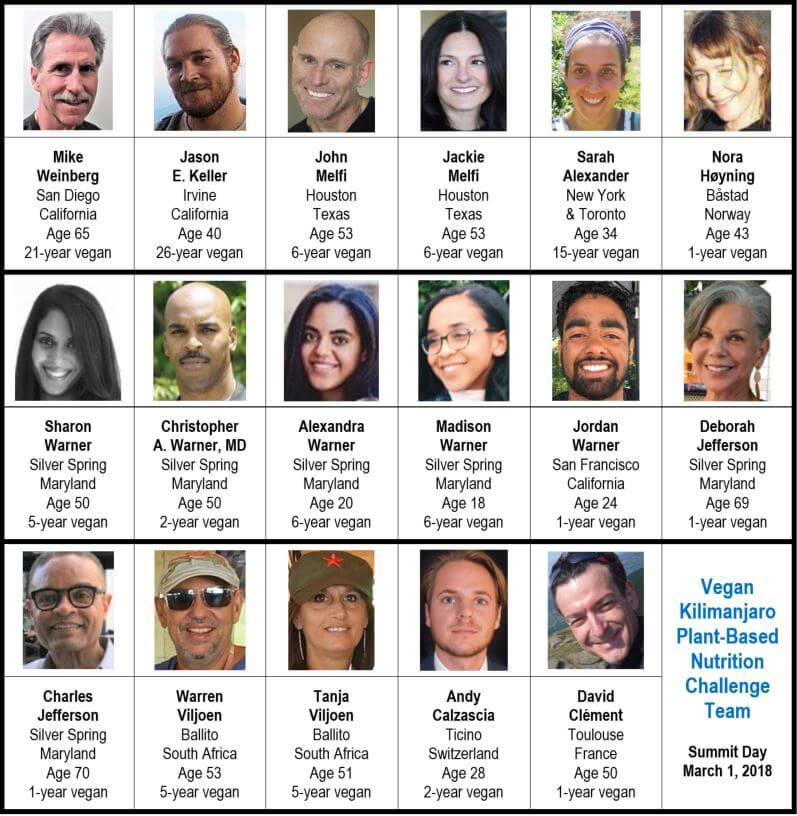 In addition to consuming only vegan food, the team avoided animal products of any kind, including in their clothing and equipment. On Facebook, Weinberg described in detail the layers he wore—including cruelty-free items from companies such as Patagonia and The North Face. He also discussed which shoes he chose and his sock-layering system. Although climbing Mount Kilimanjaro is akin to hiking, the altitude and climate—temperatures can reach upwards of 80 degrees in the daytime and drop to below zero during the night—are no joke. Being prepared with proper gear and apparel is essential, and Weinberg's vegan-friendly tips are beyond useful.
Reach New Heights With a Vegan Diet
Weinberg and his team didn't just climb a mountain—they did so without contributing to any industry that supports the suffering of animals. From the food they ate to the clothes on their backs, these climbers proved just how far—or high—vegan fare and cruelty-free apparel can take you. Click here to learn how you can join Weinberg on his next vegan adventure, and click the buttons below to learn more about vegan hiking and nutrition.