Via Newsday
Several years ago, I added a Siamese cat to my family. Mochi had been picked up as a stray by a local animal control agency. When no one claimed him, he was turned over to a Siamese cat rescue group. The first time I took him to my veterinarian, a man at the vet's office peeked into Mochi's carrier and then said to his wife, "He's a Siamese." "I just adopted him from a rescue group," I explained. Incredulous, the man responded, "Siamese cats don't need rescuing!"
June is Adopt a Shelter Cat Month, and for people with the energy, resources, patience and love to devote to a feline companion, it's the perfect time to save a life by adopting a cat from an animal shelter or reputable breed-rescue group. Whether you have your heart set on a rambunctious kitten or a more sedate "lap cat," a regal Persian or a sassy tabby, animal shelters are overflowing with cats of every stripe.
I'll never understand why some people still turn to breeders, classified ads or pet stores—all of which contribute to the animal overpopulation crisis—when animal shelters and rescue groups are filled to the brim with lovable, affectionate cats (and dogs) who would make wonderful companions. With so many more animals than there are good homes, shelters have no choice but to euthanize many healthy and friendly cats. Every year, 3 to 4 million cats and dogs are euthanized in animal shelters.
If you're determined to have a specific breed of cat, you can still rescue an animal in need of a loving home. Having a pedigree doesn't protect cats or dogs from being tossed out like old furniture when they're no longer wanted. I recently adopted a second Siamese cat who, like Mochi, was a stray. Romeo had been neutered and declawed, so obviously he was once someone else's companion, but no one had come forward to claim him.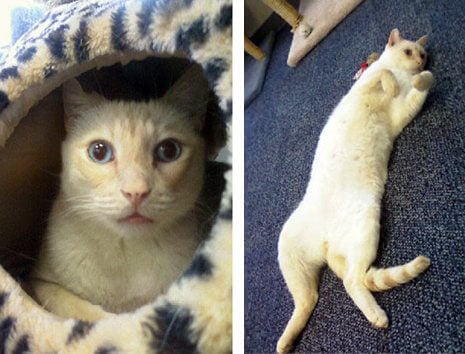 Despite being extraordinarily handsome, Romeo still ended up homeless—until he was rescued.

The rescue group from which I adopted Mochi is currently caring for several Siamese cats who were left to fend for themselves when their owners moved away. One cat was stuffed into a box that was taped shut and left outside an animal shelter.
Another older Siamese was given up because his owner didn't want to spend the money to find out why he was sick. Then there are the Siamese kittens who were born homeless because someone didn't bother to spay or neuter his or her cat and an unwanted litter was the result.
These same sad scenarios are repeated time and time again all over the country, and they affect mutts and purebreds alike.
There are other reasons to visit an animal shelter or rescue group rather than supporting breeders and pet stores. Pre-loved cats are more likely to be litter box-trained, and they're pros at sharpening their claws on a scratching post instead of your favorite sofa. Shelters screen animals for specific temperaments and behaviors, and most have trained adoption counselors available to help you find the perfect fit for your family. Animals in shelters and rescue groups are also checked out by a veterinarian when they arrive, and they leave spayed or neutered, microchipped and vaccinated.
Mochi and Romeo went from life on the street to a loving home where they lounge on windowsills on sunny days, playfully chase each other up and down the hallway and snuggle in bed with me at night. If you're ready to share your home with a feline companion, why not give a homeless cat—or two—a second chance at life? Your new best friend could be as close as your local animal shelter.

Written by Paula Moore