Upset about the torture of bulls, over 60 activists from across the globe, including some Americans, got completely downright naked and protested against the encierro, or the Running of the Bulls, in Pamplona this weekend. Notice any recurring themes in the protest tactics of animal rights folk? That's right! We're pretty good at, ya know, getting noticed.
Lying down near the end of the Running of the Bulls route and dressed only in black underpants with matador barbs protruding from their backs, the activists dramatically highlighted the immense cruelty and suffering that bulls endure. These half-ton animals are chased through crowded, winding, and sometimes rain-slicked streets while runners and spectators hit and taunt them. The bulls often crash to their knees or collide with walls in their panic. It's seriously sad, sick "hey, look at me, I'm a man" stuff that we're dealing with here, folks.
Even though Spain was recently in our good graces for their compassion to apes, the Running of the Bulls is a massive blemish on the country's reputation, and it needs some serious rethinking. Even Spanish TV stations know what's up, and they refuse to air this hideous event. Maybe Pamplona's mayor could learn a lil' somethin'-somethin' from the folks at Red Bull?
For more information, check out RunningOfTheNudes.com, and take a look at the below pictures from the demo.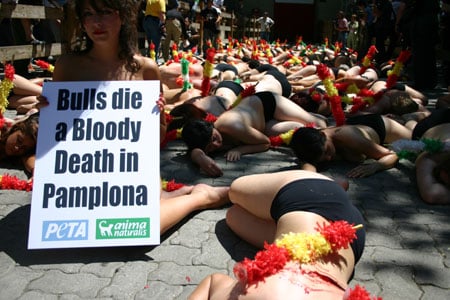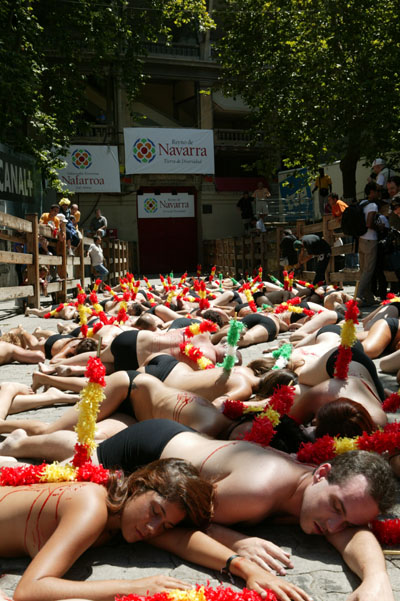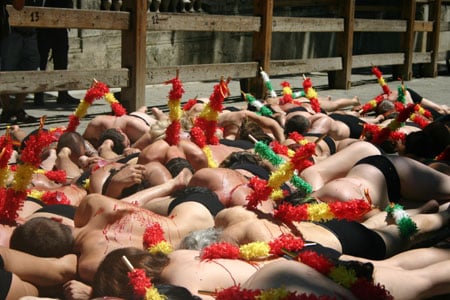 Posted by Robbie LeBlanc