And here's our favorite caption for this weeks' "10% Wool" comic contest! We're in process of contacting the winner, so be sure to check your inbox!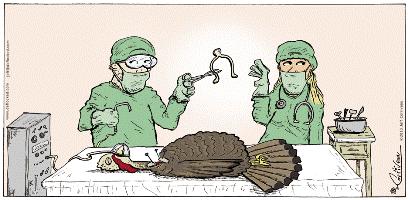 News update! In an attempt to make themselves less desirable, turkeys are flocking to plastic surgeons for wishbone-ectomies!
Tonight at 9: "Ask Yourself: Is Your Thanksgiving Meal Worth Their Pain?"
Click here for larger version
Don't forget to check out past 10% Wool comic strips and get more information on the series and the writer here, and learn how to get Jeff's other comic, DeFlocked, in your local paper here.