The Iditarod—a grueling 1,000-mile race in which dogs are forced to run to exhaustion, injury, or even death over Alaska's unforgiving terrain—has resulted in the deaths of more than 150 dogs since its inception.
Dogs are bred for this, and those who aren't fast or fit enough may be killed. Countless others die during the off-season while they're chained to dilapidated wooden boxes or plastic barrels.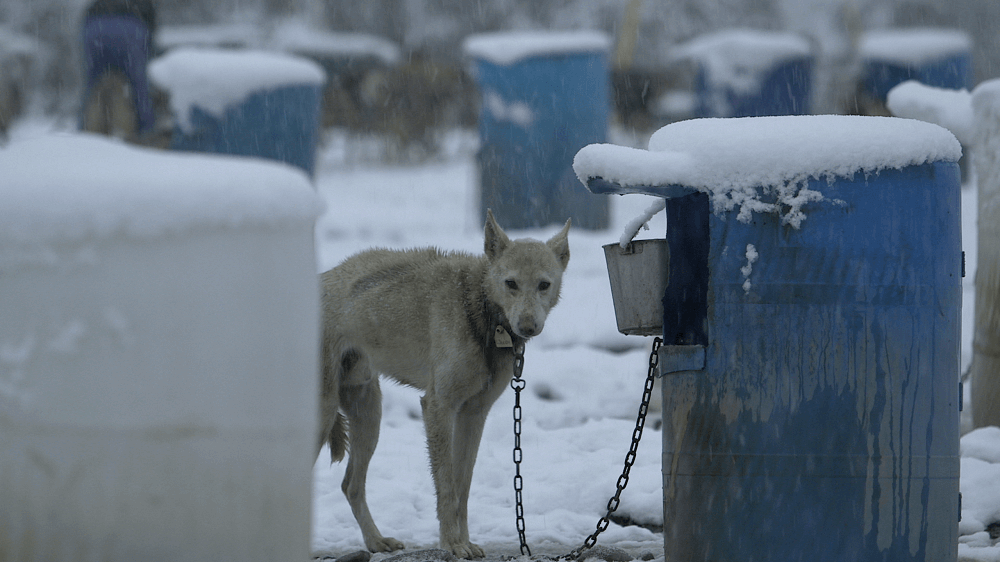 © CCI Entertainment
During the race, dogs are forced to run about 100 miles a day through biting winds, blinding snowstorms, and subzero temperatures. Many pull muscles, incur stress fractures, sustain bloody stomach ulcers, or are afflicted with diarrhea, dehydration, intestinal viruses, or aspiration pneumonia. Up to half of the dogs who start the race don't finish because they're too exhausted, ill, or injured to go on. During this year's Iditarod, nearly 200 dogs were pulled off the trail, leaving the rest to have to work even harder to compensate. In 2019, a dog named Oshi died from aspiration pneumonia just a day after crossing the finish line—probably from inhaling her own vomit. Aspiration pneumonia is the leading cause of death for dogs who don't survive the race.
Please do the following:
Post a comment on the Facebook page for Millennium Hotels and Resorts—whose Lakefront Anchorage hotel is still supporting the death race—and tell it to cut ties now.
Post a comment on the Facebook page for Millennium Hotels and Resorts
Call Millennium Hotels and Resorts' U.S. headquarters at 303-779-2000 and press 0 to speak with the operator. Note: The number will go straight to voicemail, but you'll reach a live person if you press 0. They may tell you to call the Anchorage, Alaska, location, but tell the company's corporate office that you take animal abuse seriously and that what it's doing is wrong!
Call Millennium Hotels and Resorts
Send polite comments to Austin Quinn-Davidson, acting mayor of Anchorage, at

[email protected]

and urge her to leave dogs out of the race. Note: This address appears to have blocked e-mails that mention PETA, so please leave the word "PETA" out of your correspondence.
E-Mail Austin Quinn-Davidson, Acting Mayor of Anchorage
Comment on Iditarod's Facebook page
On its Instagram account, tell telecommunications provider GCI to stop sponsoring the death race.
Order our FREE leaflets to inform people about the Iditarod's cruelty to dogs. If you live near a Millennium hotel, slide the leaflets under guests' doors so that can learn what the company is supporting. For leaflets, send an e-mail to

[email protected]

with the subject line "Millennium Leaflet Request."

Please let us know about your call below. By submitting this form to PETA, you are not taking action or contacting the company. This is a feedback form to help us improve the call-in experience.

By submitting this form, you are agreeing to our collection, storage, use, and disclosure of your personal info in accordance with our privacy policy as well as to receiving e-mails from us.