Each year, millions of turkeys are killed for Thanksgiving meals. Regarded by many as little more than a holiday centerpiece, turkeys are as varied in personality as dogs and cats. They relish having their feathers stroked and like to chirp, cluck, and gobble along to their favorite tunes. This year, please help these special animals—don't eat them!
The following are three things that you can do this year to help turkeys!
1. Have a vegan holiday (and better yet, share it with your friends and family)!
PETA has created a holiday survival guide with recipes, tips, and advice for answering difficult questions. Download it here, and get started planning your cruelty-free holiday!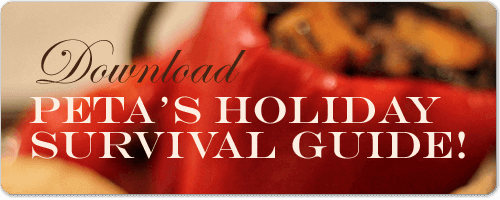 This unsettling yet hilarious video features a young girl saying grace at her family's Thanksgiving table and describing the treatment of turkeys.
3.Rent and watch the movie Free Birds with friends and family!
This animated movie tells the story of turkeys who go back in time in order to change the first Thanksgiving so that they don't end up on the menu. This child-friendly film is a great way to discuss compassion for turkeys with your loved ones.
BONUS: Love celebrities?
Then check out this list of 25 celebs who won't be eating turkey for Thanksgiving this year.
Inspired to help animals?