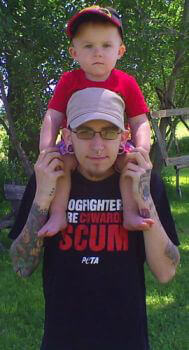 Just in time for Father's Day, we had the chance to talk to animal rights advocate and super dad Ryan Couture. He's been fighting the good fight for animals for years and is passing on his compassion for animals to his son, Dex. It's amazing to see the animal rights message spreading from one generation to the next, and it all started with a PETA sticker! Check out our Q&A with Ryan to find out how he gets active for animals and shares his passion with his family.
Here he is in his own words:
How did you first get interested in animal rights?
I went vegetarian at a very young age. It was only natural that I would eventually become an animal rights activist. I was handed a sticker at Warped Tour years ago that said, "I Am Not a Nugget," and that sticker introduced me to PETA and made me want to get active for animals.
What do you consider your biggest accomplishment within the animal rights movement?
I work with a small animal rights group called BAAN (Barrie's Animal Activist Network). Working with BAAN has allowed me to hit the streets protesting, passing out leaflets, and getting petitions signed. I think my biggest accomplishment is the minds I have changed while working with BAAN. I love hearing people say, "I'm going to try a vegetarian diet," "I'm not going to eat at McDonalds anymore," and, my all time favorite, "I will not support circuses that use animals."
How do you share your passion for animal rights with your family?
It's pretty simple: We don't eat animals, wear animals, or use products that have been tested on animals. At my son's last birthday party, we served nothing but vegan food, and it went over very well with all the meat-eaters.
Are your children vegan, and how do you support their decisions to be or not to be vegan?
My son is a vegetarian. He has never had any animal flesh in his body. When he gets a little older and asks about meat, I am going to be 100 percent honest with him, the way my parents were with me. Hopefully he will want to stick to his vegetarian diet or switch over to a vegan one.
 
Do you have any advice for other dads out there who are trying to encourage their children to stand up for animals?
I would advise them to never lie to their kids—they deserve to know what they are eating and wearing. Parents shouldn't underestimate their children's intelligence; children can tell the difference between right and wrong. They know that animals shouldn't suffer, and it's our jobs as their parents to teach them to stand up for what is right. If you have young kids, check out PETAKids.com, and if you have older kids, check out peta2.com. These websites are full of ways kids can help animals.
*****
Happy Father's Day to Ryan and all the dads out there who are taking a stand for animals and sharing the truth about animal rights with their children. And remember: It all stemmed from receiving a PETA sticker, so be sure to join PETA's Action Team and make a difference with every action you take for animals!