Each week, PETA's campaigners publish a new post about their lives as they travel the country, fighting for animals. This week's post is written by Ashley Byrne.
When I heard that Canadian Prime Minister Stephen Harper was planning to pay a visit to my home city of New York City in May to attend a meeting at the Council on Foreign Relations to discuss the Keystone XL Pipeline, I wanted to be sure that he would see a familiar face waiting for him when he arrived at the meeting: PETA's "seal" mascot, who follows him all over the world to protest his support of Canada's bloody seal slaughter.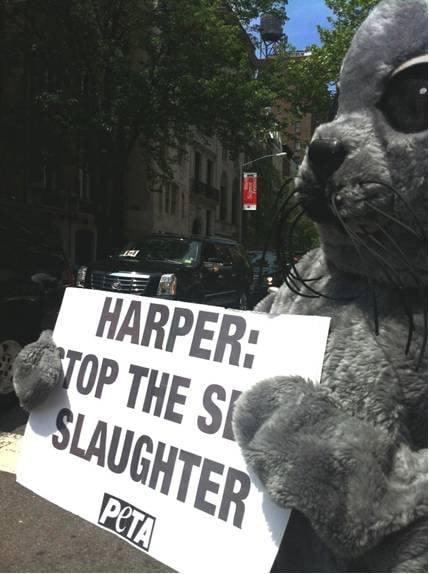 The morning of Harper's visit, I met up with a brave volunteer who was unfazed by wearing a hot mascot costume in the unseasonably warm 80-degree weather, and we arrived early to the site of the meeting to wait for his arrival. We weren't the only ones with a message for Harper. A big crowd of environmental activists showed up shortly after we did to protest the construction of the controversial pipeline (along with crowds of journalists and police officers).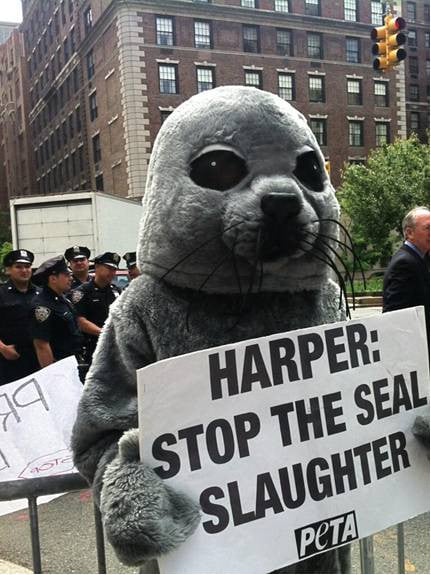 The Keystone protesters were all very supportive of our campaign (and, while we were waiting, I even chatted with one woman about her decision to give up meat years ago after she found out that it was a leading cause of climate change). Passersby were supportive as well, including one gentleman who was so horrified that people were still killing seals that he returned to ask me for more leaflets, because he had given the one that I gave him to someone else.
One woman stopped with her toddler and showed the little girl the "seal" and explained that we were protecting them from being hurt. When Harper arrived, they dropped him off down the block from us, possibly because of the large crowd of protesters, but since we were right up front, we knew that he definitely saw us (just like he's seen the PETA "seal" waiting for him in cities ranging from Toronto to Washington, D.C., and Berlin)! Hopefully, Harper got the message loud and clear that compassionate New Yorkers think the seal slaughter stinks!
Inspired to help animals?