Motivated and driven activists are one of the reasons why PETA has become such a force for animal rights. We are lucky to have such dedicated supporters who are always willing to speak up for animals! When it comes to animal rights activism in Boston, few people are as knowledgeable and hardworking as Laura Ray.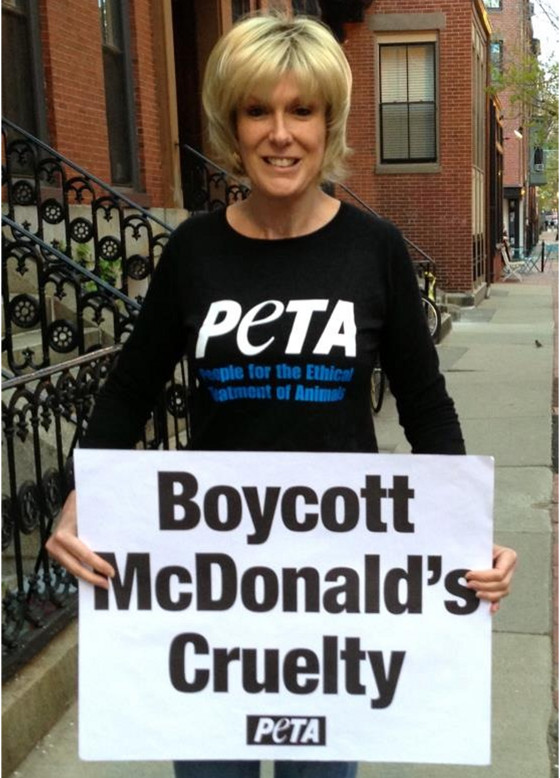 Laura recently took some time out of her busy schedule to chat with PETA and share some of her insight into what makes a successful activist for animals.
Here she is in her own words:
When did you first get involved in animal rights and why?
I first got involved in animal rights in 1993. I took a long hard listen to the Smiths' song "Meat Is Murder," and it had an impact on me. The late Linda McCartney also inspired me. In 1993, I got my first dog. I learned as I watched my dog that animals feel every emotion we do. This really opened my eyes. Why would a cow, pig, or chicken feel any differently? I decided that animals need a voice, as they cannot speak for themselves.
What types of activism do you usually participate in?
I volunteer for PETA on a regular basis. I plan, organize, and attend demonstrations. I prefer to be a physically active activist versus sitting in front of my computer. I leaflet in my spare time and do various other activities in the interests of animals.
Can you tell us about your most recent projects or demonstrations?
Recently I did a demonstration against the store bebe for selling fur, a McCruelty demo against McDonald's, a demo against Harvard University's primate lab, and a demo against California Pizza Kitchen asking them to tell their cheese suppliers not to dehorn cattle.
Do you have any companion animals?
I share my life with three very happy rescued dogs—two Yorkshire terriers and a Chihuahua/Yorkshire mix. I also share my life with six always entertaining cats, whom I also rescued. They each have their own unique personality. Needless to say, there is never a dull moment at my house.
Are you vegan? If so, was there a specific moment that made you change your lifestyle?
In 1999, I happened upon a book written by Ingrid Newkirk called You Can Save the Animals. This book opened my eyes, and I learned about the egg and dairy industries. I was shocked and horrified to learn about the cruelty. I immediately went vegan and did not look back!
Where is your favorite place to eat near your hometown?
My favorite place to eat is located in Allston, Massachusetts, and it is called Grasshopper. Their Asian vegan food is delicious, and I highly recommend it to everyone.
What is the most common question you hear about animal rights, and how do you normally respond to it?
"Where do you get your protein?" I think this is one that all vegans deal with. I explain that beans and rice are the perfect protein. I tell them about soy and all of the delicious meat substitutes that have protein. They only need to try them to find that they are delicious. I tell them that there is no fiber in meat and cholesterol is only found in animal products.
Is there a specific animal rights issue that you feel most driven about? If so, why?
I would have to say fur. Why? Because of the cruel ways in which fur-bearing animals are kept and killed. Plus, there's the fact that more than half the finished fur comes from China, where they use cats and dogs. This is a fact that the majority of people do not know. I look at my dogs and cats and shudder. It is just so unnecessary when there are so many stylish options.
Can you tell us about a moment that was especially important to you as an activist?
There are many, but I have to say my recent conversation with two different women who turned vegan straight away! I continue to coach them by providing them with recipes and tips on the many meat substitutes and options that exist. No longer do animals have to suffer for their plates.
Do you have a favorite PETA celebrity supporter? If so, why?
I have many, but I would have to say Paul McCartney, as his departed wife, Linda, was one of the reasons I became interested in animal rights. I love his recent narration of "Glass Walls," and his star status goes a long way in encouraging people to think twice about what they eat, etc.
Do you have a favorite tip for easy activism?
I love to talk to people about the neatly wrapped packages of meat they purchase. I tell them to look at it as someone, not something. He or she had a mother, had feelings, and suffered pain. Just tell people to think of someone, not something. Oh, and next time you hear someone say "seafood," correct them and say "sea life"!
Inspired to help animals?