A breaking PETA eyewitness exposé of Heifer Solutions, LLC—a Porterfield, Wisconsin, farm that keeps and raises approximately 1,000 calves and heifers for various dairy farms—reveals that hot irons were used, without any anesthetics or pain relief, to burn the sensitive tissue off calves' heads as they kicked and cried out in agony and smoke rose from their charred flesh.
Please take action today to prevent more calves from enduring this agony!
In December 2018, a PETA eyewitness documented an extremely painful procedure known as "disbudding," in which a worker burns the highly sensitive horn-producing cells off calves' heads.
The animals struggled and bellowed in obvious distress as they attempted to pull their heads away from the hot iron and escape the metal restraints.
The third-degree burns that are incurred can cause pain for weeks.
The worker said that providing the calves with local anesthetics before burning them would make the disbudding "a lot easier, but where's the fun in that?" He even said that keeping the hot iron pressed against the calves' heads as they jumped around and kicked made the process "more exciting" to him.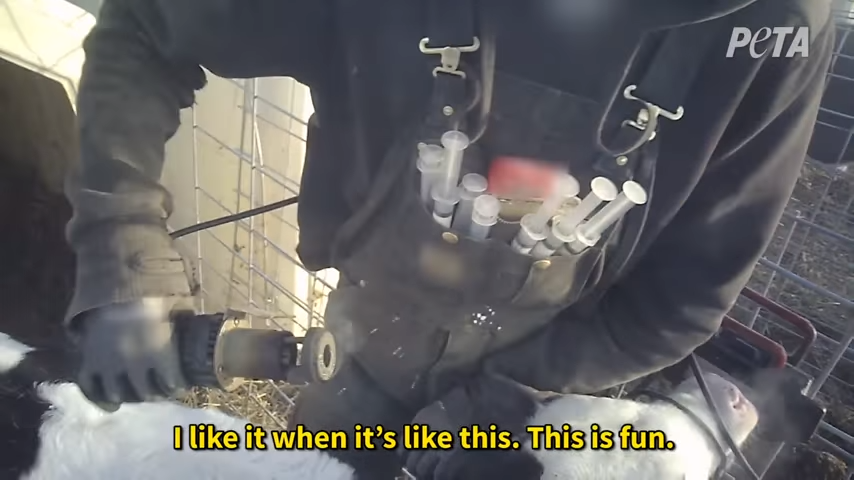 Veterinary and dairy industry experts agree on the need for pain relief before and after this agonizing mutilation. The American Veterinary Medical Association (AVMA) agrees that disbudding is "quite painful" and that "[m]inimizing pain associated with disbudding … is important."
One veterinarian who reviewed the footage, said, "The calves in these scenes struggle violently … in a manner indicative of extreme distress, pain, and suffering. In my professional opinion, disbudding a calf without adequate anesthesia or pain relief is cruel and causes unnecessary and excessive pain and suffering"

.
Experts also point out that because horn buds grow and attach to the skull at about 8 weeks of age, disbudding after that point can cause holes in the sinuses and subsequent bleeding and infection. The worker said that one of the approximately 12-week-old calves he burned had "bigger" horn buds, which he said made the torturous process take even longer.
Another veterinarian who reviewed the footage said, "[T]hese calves suffered extreme forms of pain and distress"

.
PETA has submitted its evidence to the Marinette County, Wisconsin, sheriff and requested a criminal investigation.
What You Can Do
What was documented at Heifer Solutions is just one of many forms of cruelty inherent in the dairy industry. The surest way to help spare calves such pain and suffering is to stop buying cow's milk and other dairy items and go vegan today.
Most cows used for milk are born with tissue that will develop into horns, but most farmers remove the sensitive horn tissue or the horns themselves from cows' skulls using hot irons, caustic chemicals, sharp metal scoops, blades, or handsaws.
It's up to the dairy industry to end this excruciating mutilation. An approach that has proved effective is breeding naturally hornless cows.
Urge Danone—the maker of Dannon yogurt and Horizon Organic milk—to act with expedience to phase out this cruel practice.
Please e-mail Danone North America CEO Shane Grant at [email protected] to urge the company to require farmers in its supply chain to phase out all forms of dehorning.
Please feel free to use our sample letter, but remember that using your own words is always more effective.