Update: August 10, 2020
Victory! After years of campaigning by grassroots animal activists in New York City supported by PETA—including e-mails from tens of thousands of supporters like you—Paragon Sports is banning fur! This winter will be the last season it brings fur products, including Canada Goose fur-trimmed jackets, into its store—a big win for coyotes and other animals.
Compassionate people like you helped to make this victory a reality for animals. Now please take a moment to urge Canada Goose to stop selling parkas made from the fur of wild coyotes and the feathers of gentle geese.
Urge Canada Goose to Ditch ALL Fur and Down!
---
Paragon Sports is an outdoor retailer that claims that it's committed to offering its customers the "most innovative and technologically advanced products." Yet the company continues to sell fur, an archaic and wholly unnecessary product that's stripped from animals, many of whom are forced to spend their entire lives confined to filthy, cramped cages before being beaten, electrocuted, gassed, or even skinned alive.
Paragon Sports also sells products from Canada Goose, despite knowing that coyotes are caught in painful steel traps—where they can suffer for days with broken bones and lacerations—and killed for the fur used to trim the company's jackets. In the trapping industry, victims desperate to free themselves from traps have even attempted to chew off their own legs to escape.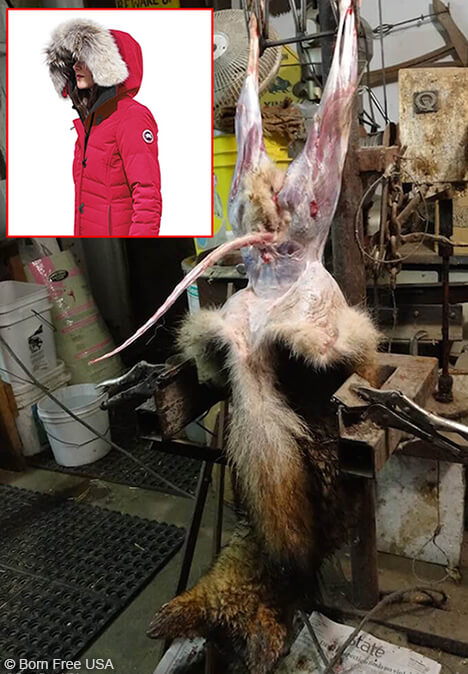 In addition, fur is terrible for the environment, in part because of the tremendous amount of feces and animal carcasses that accumulate on farms. The bacteria from this waste and the toxic chemicals, including chromium and formaldehyde, that are used to prevent fur from rotting can leach into nearby vegetation and waterways—killing plants and animals, including aquatic life.
Hundreds of designers and retailers—including Helly Hansen, Arc'teryx, and The North Face—refuse to use fur!