Update (July 18, 2022): Following years of pressure from PETA—including more than 300,000 messages from our supporters—American Express has removed crocodile-skin bags from its Membership Rewards program. Thanks to this victory, cardholders will no longer have the option to redeem their points for bags made of crocodile skin.
Although American Express' decision to stop offering crocodile-skin products as rewards is a great step toward ending the exploitation of animals used for clothing and accessories, our work must continue. Join us in urging LVMH, Gucci, and Hermès to ban exotic skins from their fashions.
Original post:
Behind every ostrich-, crocodile-, and alligator-skin accessory is a short, miserable life of deprivation and a violent death—yet American Express allows and even encourages its credit card holders to redeem points for items made from exotic-animal skins.
Other animals deemed "exotic"—including snakes and lizards—are also killed barbarically and often skinned alive to make accessories.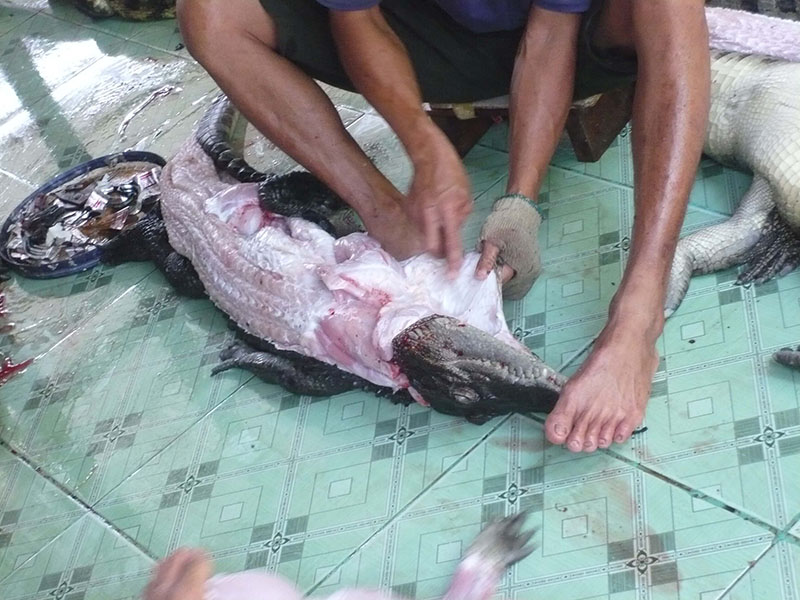 Animals' skins belong to them and no one else. In dropping animal skins, American Express would be joining many other companies—including Adidas, Ann Inc., H&M, Hugo Boss, Nike, Overstock.com, Puma, and VF Corporation—that understand that there's no excuse for supporting such blatant cruelty and that have severed ties with the exotic-skins trade.