Update: August 3, 2020
Canadian retailer Simons confirmed that it is banning fur and will be completely fur-free by fall! This victory comes after more than 65,000 concerned shoppers like you contacted the company. Thank you to all who took action by asking Simons to stop selling fur.
Unfortunately, some companies continue to sell it, and we need your help to push them to stop.
URGE THESE COMPANIES TO BAN FUR!
---
Why would anyone want to wear clothing or accessorize a home with products containing wool or fur that has been ripped from animals' skin?
A PETA Asia eyewitness visited rabbit farms in China, the source of 90 percent of the world's angora wool, and found rabbits who screamed in pain and terror as workers ripped the fur out of their skin, a barbaric ordeal that they endure every three months. Rabbits who are sheared have their feet tightly tethered, and they are suspended in the air or stretched across boards. The sharp cutting tools inevitably wound them as they struggle to escape. After several years, rabbits who survive this repeated abuse are hung upside down, and their throats are slit.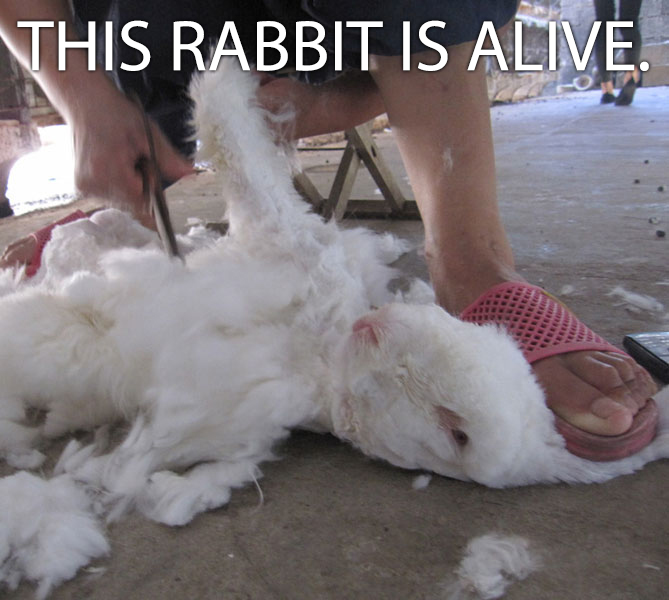 Rabbits are sensitive, social animals, but on angora farms, they are forced to spend their lives confined all alone to barren cages with wire floors that leave their feet raw, ulcerated, and inflamed. There are no penalties for cruelty to animals or standards for rabbits used for angora wool in China.
Animals farmed for fur—including rabbits, whose fur Simons sells—are locked inside cramped, filthy wire cages with only enough room to take a few steps in any direction. Fur farmers use the cheapest killing methods available, including neck-breaking, suffocation, poisoning, and anal electrocution.