After facing nearly two years of pressure from PETA and receiving more than 139,000 e-mails from supporters like you, accessories designer Patricia Nash is now part of the ever-growing list of fur-free brands! It joins the ranks of Giorgio Armani, Gucci, Michael Kors, and Versace, which have also recently denounced the use of fur—the majority of which is taken from animals who spend their short, miserable lives inside cramped wire cages before being electrocuted, bludgeoned, suffocated, or skinned alive.
The end of fur is drawing near as more companies like Patricia Nash recognize that the future of fashion is vegan.
---
Why would anyone want to accessorize with real fur that comes from animals who have been caged and denied everything that is natural and important to them—before being gassed to death, anally electrocuted, or worse? Retailer Patricia Nash, who sells her designs at Macy's, Dillard's, and Nordstrom, continues to market handbags and accessories cruelly made with real fur, despite hearing from PETA about how animals are horrifically abused for it.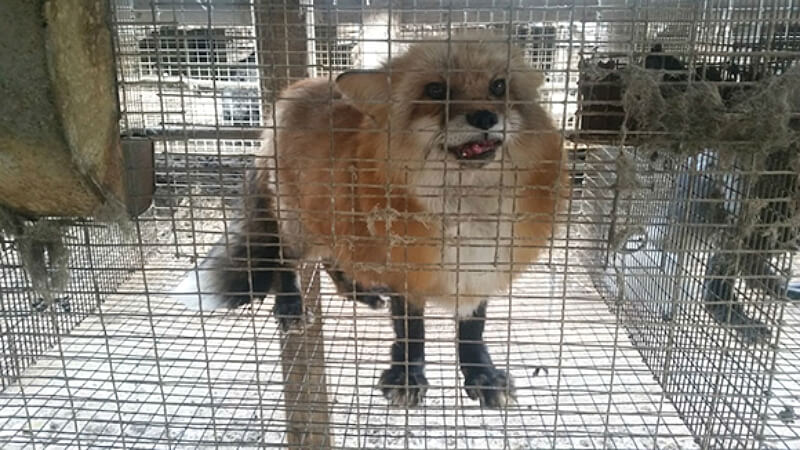 Every year, farmers use the cheapest killing methods available, including neck-breaking, suffocation, poisoning, and genital electrocution—and on many fur farms, animals are still alive and struggling when they are hung by their legs or tails and skinned. Workers stomp on the necks of animals who struggle and then peel the skin and fur over the animals' heads, often while they are still alive and conscious, before throwing them onto a pile of bodies. Some animals are still alive—panting in ragged gasps—for as long as 10 minutes after they've been skinned. Eva Mendes narrates this video about the rampant abuse inside fur farms today, which is where 85 percent of the world's fur comes from.
By selling handbags and accessories made with fur, Patricia Nash is complicit in the abuse of these intelligent, sensitive, gentle beings.