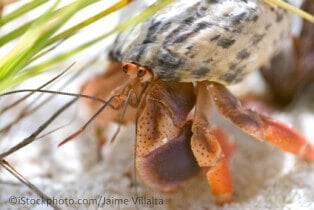 Wild and exotic animals suffer tremendously in captivity. PETA has asked the executive of Sunsations Inc.—a retailer that specializes in tourist sundries, swimwear, and apparel—to adopt a policy that prohibits the sale and display of hermit crabs, chameleons, bearded dragons, and snakes in all 35 of its stores. Sadly, our concerns appear to have been casually dismissed.
Every year, countless people give in to temptation and purchase wild or exotic animals on a whim as "pets," but very few have the knowledge required to meet the animals' specialized husbandry needs or the inclination to commit to the years-long responsibility of caring for them. Stolen from the wild, peddled as cheap trinkets, confined to small "habitats," roughly handled, fed improper diets, and forgotten when the novelty wears off, these animals are doomed from the moment that they are born. 
With so many harmless products to offer tourists, Sunsations could make a profit without causing suffering. Please join us today in urging the executive of Sunsations to do the right thing and stop selling live animals at the company's stores!

If you live in New Jersey, Delaware, Maryland, Virginia, North Carolina, or Florida, please also call your local Sunsations store and ask its management to stop selling live animals!
Please politely call or send letters to:
Avi Sibony, Executive
Sunsations, Inc.
353 Village Rd.
Virginia Beach, VA 23454
757-422-5739 (Press 1 to be transferred to Sunsations, then press 5 for customer relations.)
[email protected]