After facing over a year of pressure from PETA and receiving more than 200,000 e-mails from supporters like you, Furla has announced that it's joining the ever-growing list of fur-free luxury brands. Giorgio Armani, Gucci, and Michael Kors are also among the most recent companies to have denounced the use of fur—the majority of which is taken from animals who spend their short, miserable lives inside cramped wire cages before being electrocuted, bludgeoned, suffocated, or skinned alive.
The end of fur is near as more companies like Furla recognize that the future of fashion is vegan.
---
Why would anyone want to carry around a handbag decorated with the fur of animals who spent their entire lives confined to a filthy cage before finally being beaten, electrocuted, gassed, or skinned alive? No one with a conscience would.
Yet Furla continues to sell fur pompom key chains and handbags, which it recently added to its collection, despite hearing from PETA and nearly 200,000 compassionate people around the world that animals suffer in the fur trade.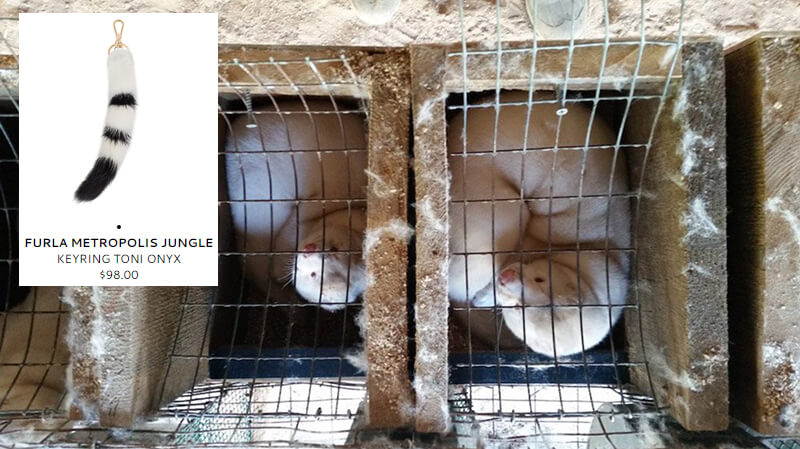 Animals like the ones pictured here are killed to make fur key chains sold by Furla.
Fur farmers use the cheapest slaughter methods available in order to keep the animals' pelts intact, including neck-breaking, suffocation, poisonous gas, and genital electrocution, all of which result in agonizing pain. Workers hang the animals by their legs or tails, stomp on their necks if they struggle, and peel their skin and fur over their heads. Then, skinned, they're thrown onto a pile of bodies, where some remain alive—panting in ragged gasps—for as long as 10 minutes.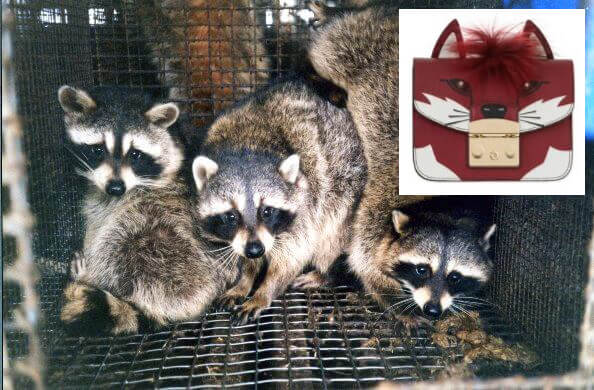 Furla also refers to its animal pelts as "eco fur." But research shows that it's 10 times more harmful to the environment to produce a garment made with animal fur than it is to produce a faux-fur item, and the chemicals used to prevent animals' flesh from rotting after it's been turned into a coat or trim are highly toxic and carcinogenic.
That's why hundreds of major designers and retailers—including Bottega Veneta, Giorgio Armani, Gucci, Nicole Miller, and Ralph Lauren—have already banned it and opt instead for beautiful, luxurious faux fur that does better by the animals and the planet.