Update: Earlier this year, news circulated that notorious big-cat exploiter Dirk Arthur would no longer use big cats for his antiquated magic show at the Westgate Las Vegas Resort & Casino, but the hotel claimed that his big cat–abusing act would be back in the summer. However, sources confirmed in August that Westgate has no plans to schedule Arthur's act—effectively marking an end to the use of big cats in performances on the Las Vegas Strip!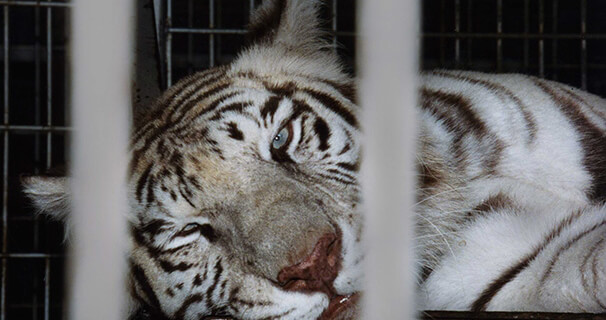 Notorious big-cat abuser and magician Dirk Arthur is no stranger to the Westgate Las Vegas Resort & Casino, where he has previously forced big cats to perform and is reportedly planning to take the stage once again this summer. It has never been clearer that the public simply does not support the exploitation of animals for public amusement, so speak up now and let Westgate management know that cruel animal acts aren't your idea of entertainment.
Arthur has been cited for numerous animal-welfare violations, including for having forced two tigers and a lion to undergo painful declawing procedures—which involve amputating part of each toe—in violation of long-standing U.S. Department of Agriculture (USDA) policy. He was also cited for confining a snow leopard and a bobcat to unsafe enclosures, failing to use adequate barriers to protect animals and the public, failing to provide cats with sufficient space to "make normal postural and social adjustments," and denying them the opportunity to exercise. The USDA later issued Arthur an official warning for violations uncovered at a December 2013 inspection. According to a trainer who provides tigers for Hollywood productions, conditioning tigers like those trained by Arthur to be submissive is possible only through violence.
Vegas landmarks like Caesars Palace and the MGM Grand have already nixed Arthur's act from their casinos, while other magicians, such as Kirby VanBurch and Rick Thomas, have retired big cats from their shows. Even animal entertainment giants are changing to reflect the growing public disapproval of animal exploitation. In the last year alone, Ringling Bros. and Barnum & Bailey Circus announced that elephants are being removed from circus performances and SeaWorld pledged to stop breeding orcas.