Lemon-Dill Tofu Veggie Wrap
1/2 tbsp. Olive oil
1/2 lb. Extra firm tofu, drained and cubed
1 Tbsp. Soy sauce
1 cup Lemon juice
1 Tbsp. Dried dill weed
1 Tbsp. Nutritional yeast
1 tsp. Tumeric
1/2 Tbsp. Garlic powder
1-2 Tortillas (try garden spinach or tomato basil)
1 Tbsp. Dressing (try Tessamae's lemon-garlic dressing)
1/2 Avocado, pitted, peeled, and sliced
1 Small tomato, sliced
1/2 Cucumber sliced
5-10 Green olives, sliced
Salt and pepper, to taste

Heat the oil in a large frying pan and add the tofu, the soy sauce, and 1/2 cup of the lemon juice. Sauté until the tofu is browned.
Add the remaining lemon juice and the dill, paprika, nutritional yeast, turmeric, and garlic powder and stir until well combined. Season with salt and pepper and continue to sauté, adding more soy sauce and seasoning, if desired. (If the tofu starts to stick to the pan, add a little water.)
Remove from heat and allow to cool.
Place 1/4 of the tofu mix onto each tortilla and add 1/4 of the dressing, avocados, tomatoes, cucumbers, green olives, and hummus, if desired.
Wrap and enjoy!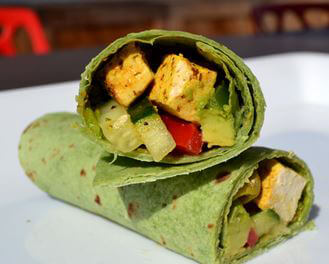 Servings: 4
Respond