Cruelty-Free on a Budget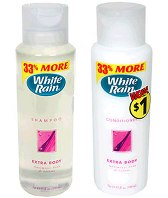 White Rain: Fabulous shampoos, conditioners, body washes, hair sprays, gels, and mousses—all for only $1 each.
Sun Laundry Care: Has a full line of detergents and softeners that typically cost anywhere from $1 to $3.
Mr. Bubble Bubble Bath: After all these years, they still makes the best bubbles no matter what your age is—and it's very gentle on your skin. Regular-size bottles usually run about $2, and just like when many of us were kids, you can still save up proofs-of-purchase and send away for the cool T-shirt!
Wet n Wild Cosmetics: Luscious lip glosses, eye shadows, liners, and more. Generally priced in the $1 to $3 range. Markwins, the company that owns Wet n Wild, also owns the Black Radiance and Tropez cosmetic lines.
Jane Cosmetics: Lots of deep pigment eye shadows, lip colors, mascaras, and super conveniently designed packages of mineral make-up. Jane products start at around $3.
Palmer's Skin Care: Rich cocoa butter and olive oil facial moisturizers, soaps, body lotions, and hair products—all affordably priced and starting around $2.
Happy budgeting!
Related Posts
Respond
In this Section