I Wanna See Your Grillz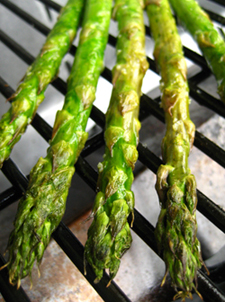 Grilling season is officially here, and I couldn't be happier. We just set up a new grill outside this weekend and have already used it about five times.
The great thing about grilling is that little preparation is required for most of the foods you might throw on the grill. Most veggies can get just a quick coat of olive oil and salt, and then they're ready for the flames. You can add frozen veggie burgers and some veggie hot dogs for a quick meal, or even tofu. Marinated and seasoned pieces of tofu cut into card-deck-size pieces hold up surprisingly well on most grills.
The one vegetable I was most excited about grilling up this year is asparagus. I love cooking it for only about four minutes, making sure it's not overdone. This allows it to retain a bit of its crispiness and keeps the spears from getting stringy when you bite into them.
Grilled Asparagus
1 lb. fresh asparagus, trimmed
2 Tbsp. olive oil
Salt, to taste
•Preheat the grill to medium heat.
•Coat the asparagus with the olive oil by tossing or brushing, then sprinkle with salt.
•Place on the grill and cook for 4 to 5 minutes, turning every minute or so.
•Serve immediately.
Respond