DIY Valentine's Conversation Heart Cookies
Written by
February 11, 2013
|
Valentine's Day is a time for letting your loved ones know how much you care. Thanks to these personalized conversation heart cookies, you can give them a message that is just for them. Plus, by making them vegan, you will also show your love for animals! Just grab your favorite vegan sugar cookie recipe, whip up a batch of frosting, and craft the perfect one-liner for your sweetheart.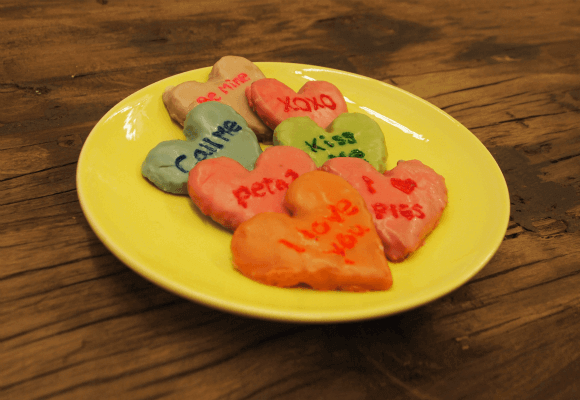 I used Eat Pastry's Gluten-Free Sugar Momma Cookie Dough, which turned out fabulous! I highly recommend it, but any vegan sugar cookie recipe will work. You'll also need some food coloring and heart-shaped cookie cutters. If you're looking for an easy way to write on your cookies, look into purchasing some edible paint pens. However, a steady hand with a toothpick and some additional food coloring will also do the trick. Enjoy!
Vegan Valentine's Conversation Heart Cookies
Sugar cookie dough (enough to make 2 dozen cookies)
1 cup dairy-free margarine
2 cups powdered sugar
1/4 cup soy milk
Food coloring
Roll the dough and form into heart shapes using a cookie cutter. Bake according to package or recipe instructions.
Melt the margarine in a microwave-safe bowl. Add in the soy milk and stir until well-combined. Slowly add in the powdered sugar until a thick and pasty frosting appears. It should be somewhat thin.
Divide the frosting into different containers and add food coloring to create a variety of colors.
Place the cookies on a cooling rack and wait until they reach room temperature before frosting. Coat the top of the cookies with frosting, making sure to cover the edges. Allow to harden for at least an hour, then place in the refrigerator overnight for best results.
Use edible paint pens—or food coloring and a toothpick—to write personal messages for your valentine!
Makes 24 cookies
Related Posts
Respond
In This Section