Raw Cheeze Pizza
The following article was written by Carissa Leventis-Cox of Mama in the Kitchen, and she ain't cookin'!
Looking for a pizza that is full of live enzymes and loaded with nutrients? Here is one that is easy to make and delicious!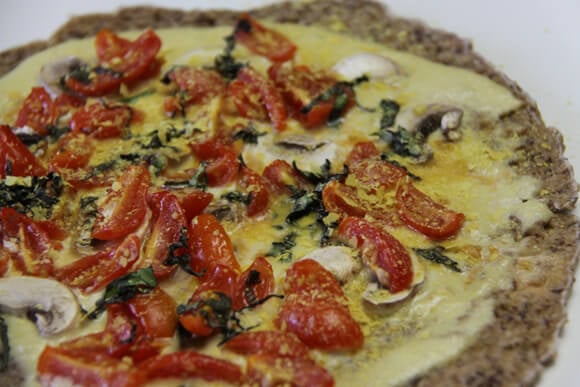 Note: Plan on making the raw dough a day or two ahead of serving the pizza.
Raw Cheeze Pizza
Sprouted Buckwheat Pizza Crust
2 cups buckwheat groats
1 garlic clove, chopped
2 tsp. sea salt
1/4 cup extra virgin olive oil
1/4 cup water
1/2 cup flaxseed meal
2 medium zucchinis, chopped
Soak buckwheat in water overnight. Rinse and drain well the next day. Place in food processor with the rest of the ingredients.
Spread the mixture on Texflex sheets and dehydrate 8 to 12 hours. Turn it out onto mesh screens and dehydrate another 1 to 2 hours at 105ºF.
Alternatively, dehydrate on full at 150ºF for 1 to 2 hours, then decrease to 105ºF and dehydrate until dry but still soft, 2 to 4 hours.
Makes enough dough for 3 large or 6 small pizzas 
Cheeze Sauce 
1 tsp. sea salt
1 Tbsp. nutritional yeast
1 cup water
1 1/2 cups cashews, soaked for a few hours
In a blender, process all ingredients on high speed.
Makes enough sauce for 2 large pizzas
To Assemble: 
Spread the Cheeze Sauce on the dehydrated pizza crust and top with your choice of vegetables. My favorites are marinated cherry tomatoes (2 cups quartered and mixed with 1 minced garlic clove, 1 Tbsp. extra virgin olive oil, 1 tsp. maple syrup, 1 tsp. sea salt), sliced mushrooms, pitted and sliced olives, and thinly sliced fresh basil leaves.
Sprinkle the top with nutritional yeast and sea salt.
Dehydrate at 105ºF for an hour, if desired, and serve.
Respond