Port Poached Figs
Written by
Amy Snyder
|
September 24, 2007
For most of my life, my knowledge of figs was limited to the Fig Newtons I ate as a child. Not bad, but definitely not something great that stood out as a food I had to have again. That is, not until I had a ripe fig picked right off the tree at my friend CK's house.
We were enjoying an afternoon snack in his kitchen (which happened to be the location of Athens' infamous Barn Parties) of fresh tomato slices sprinkled with sea salt and pepper. CK disappeared for a few minutes and returned with fresh figs. They were quite different—and much better—than what I remembered the center of those cookies tasting like. Since then, I have obsessed over ways to use figs in a dessert, and I think I've now found the perfect recipe: figs poached in tawny port.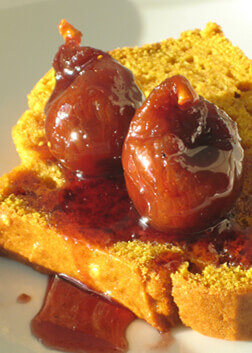 I was amazed at how well this recipe turned out. The flavors in the sauce were perfectly balanced, as was the consistency. The figs were served over thick slices of pumpkin bread (more on that later in the week), which added another rich layer of fall flavor to the dessert.
Port Poached Figs
3 cups tawny port
1 1/2 cups sugar (try Florida Crystals)
1 vanilla bean, split and scraped
1 (3-inch) cinnamon stick
1 (3-inch) strip orange peel
8 whole black peppercorns
12 black mission figs, ripe yet firm
Combine the port sugar, vanilla pods and seeds, cinnamon, orange peel, and peppercorns in a large saucepan. Bring to a boil and reduce the heat. Simmer about 20 minutes—until the liquid has the consistency of a light syrup.
Add the figs and simmer for 15 to 20 minutes. Turn off the heat and cool the figs in the syrup.
Serve the figs on top of cake or soy ice cream—or simply on their own—with the syrup. 
Respond