Mushroom Cream Sauce Over Whole Wheat Pasta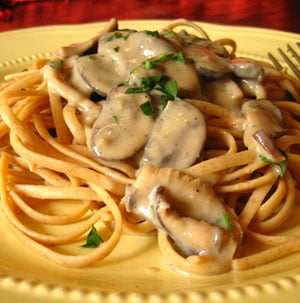 Whole wheat pasta is one alternative to white pasta, but with more nutrients and more flavor, in my opinion. I know that some people are afraid of trying the denser, grainier, healthier, and browner pasta, but if you don't expect it to taste just like the white stuff, then you'll be one step closer to enjoying it.
Whole wheat pasta should be appreciated for its own unique qualities and paired with appropriate flavors. That's exactly why I chose to couple it with a mushroom "cream" sauce in this easy yet rich dish.
The mushrooms complement the earthiness of the pasta and add the umami flavor essential in any savory dish. The "cream" sauce adds contrast, and then it's finished with parsley and lemon to lighten things up just enough to keep the dish from becoming too heavy and monotonous. Enjoy!
Mushroom Cream Sauce Over Whole Wheat Pasta
2 Tbsp. soy margarine
8-12 oz. mushrooms, sliced (try shiitake, oyster mushrooms, or portobello)
1 clove garlic, minced
1 Tbsp. all-purpose flour
1 1/4 cups unsweetened soy milk
1 Tbsp. chopped fresh parsley
Juice of 1/2 lemon
Salt, to taste
Pepper, to taste
10 oz. cooked whole wheat pasta, such as fettuccine or linguine
•Melt one tablespoon of the margarine in a sauté pan, then add the mushrooms and garlic. Sauté until soft, about 4 to 5 minutes. Remove from the pan and set aside.
•Melt the second tablespoon of margarine, then stir in the flour and cook for about one minute. Gradually stir in the soy milk and mix until smooth.
•Add the mushrooms, parsley, lemon juice, salt, and pepper and cook for 1 to 2 minutes.
•Pour the sauce over warm pasta, garnish with additional parsley (if desired), and serve immediately.
Makes 3 to 4 servings
Related Posts
Respond