Matchup of the Week: 'Bacon'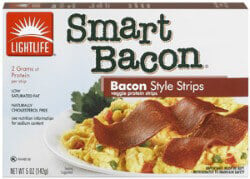 The following article was written by Keegan Baur.
The past couple of weeks, I've been craving a vegan breakfast sandwich, and I think I'm finally going to make some next weekend! à Get excited. Why, you ask? Because this means I've been thinking about the ingredients I'm going to use, and I've got good news: Although "real" bacon is one of the worst things you can eat, the vegan version is definitely easier on your heart and your overall health.
Lightlife Vegetarian Food Smart Bacon
Serving Size: 10 g
Calories: 20
Total Fat: 1 g
Saturated Fat: 0 g
Total Carbohydrate: 0 g
Sodium: 140 mg
Protein: 2 g
Cholesterol: 0 mg
Source: http://bit.ly/d0llU0
Farmland Foods All Natural Bacon
Serving Size: 15 g
Calories: 90
Total Fat: 8 g
Saturated Fat: 2.5 g
Total Carbohydrate: 0 g
Sodium: 250 mg
Protein: 5 g
Cholesterol: 20 mg
Source: http://bit.ly/vlv6jj
With less fat, sodium, and cholesterol as well as fewer calories and the same bacon-y taste, there's really no comparison. The vegan version is the clear winner. I know what I'm having at brunch next Sunday. Vegan-bacon-and-tofu-egg sandwiches, here I come!
Respond