Featured Recipe From Gardein
The following article was written by PETA marketing coordinator Ashley Palmer.
It's finally starting to feel like fall here in Virginia, and there's nothing like a big bowl of vegan chili to warm you up on a chilly day.
This simple and tasty recipe by chef Tal Ronnen features one of my favorite products, Gardein Beefless Tips. 
If you haven't tried Gardein yet, this is the perfect opportunity. Not only do you have access to dozens of recipes on the company's site, you also have a chance to save money on Gardein products. We've got 2,500 coupons to give away, so hurry up and head to our Facebook page. We have a feeling they'll go fast.
What are you waiting for? Go grab your coupon, head to the store to pick up some Gardein products, and then fire up the stove for this delicious vegan recipe. Enjoy!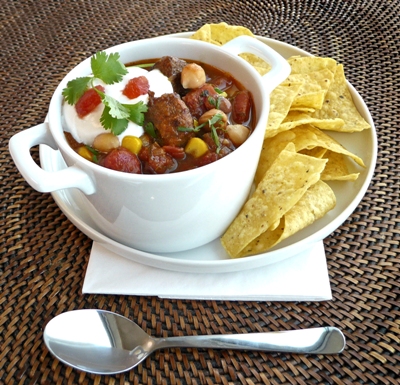 Black Bean and Gardein Chili
2 Tbsp. vegetable oil
1 onion, diced (1/2 inch cubes)
3 carrots, diced (1/2 inch cubes)
3 celery stalks, diced (1/2 inch cubes)
1 zucchini, diced (1/2 inch cubes)
1/2 jalapeño pepper, deveined, seeded and minced
1 garlic clove, minced
2 Tbsp. chili powder
1 tsp. ground cumin
1 tsp. sea salt
1 tsp. basil
1 bay leaf 
1 tsp. oregano
7 oz. cooked chickpeas, drained and rinsed (1/2 of 14-oz. can)
7 oz. cooked kidney beans, drained and rinsed (1/2 of 14-oz. can)
1 cup frozen corn
14 oz. cooked black beans, drained and rinsed
28 oz. diced tomatoes, drained
1 tsp. chipotle pepper in adobo, puréed
Vegetable stock (as needed)
1 bag Gardein Beefless Tips
2 Tbsp. chopped cilantro
1 lime (zest and juice)
In a large pot, sauté the onion, carrots, celery, zucchini, jalapeño pepper, and garlic in oil until the carrots are soft.
Add the chili powder, ground cumin, salt, basil, bay leaf, and oregano.
Cook for 5 minutes and then add the chickpeas, kidney beans, frozen corn, black beans, diced tomatoes, and chipotle pepper.
Add the vegetable stock to cover the vegetables and cook for 1 hour, stirring often.
In a sauté pan, caramelize the Gardein Beefless Tips on all sides until golden brown and add to the chili after 1 hour 
Finish the chili with chopped cilantro, lime zest, and hand-squeezed lime juice.
Respond