Empanadas de Humita (Sweet Corn–Stuffed Pastries)
|
In the summer of 2008, I was lucky enough to get the opportunity to study in Buenos Aires, Argentina. One of my favorite things to eat while there were empanadas, so I thought I'd show some love for the perfect South American appetizer. Many countries have their own version of stuffed pastries: pierogi in Poland, gyoza in Japan, mandu in Korea, and samosas in India. They may taste completely different depending on where you are, but they do have one thing in common: they're delicious! You can put pretty much anything inside the dough and it'll work, but my favorites are sweet corn empanadas and tomato and vegan mozzarella empanadas.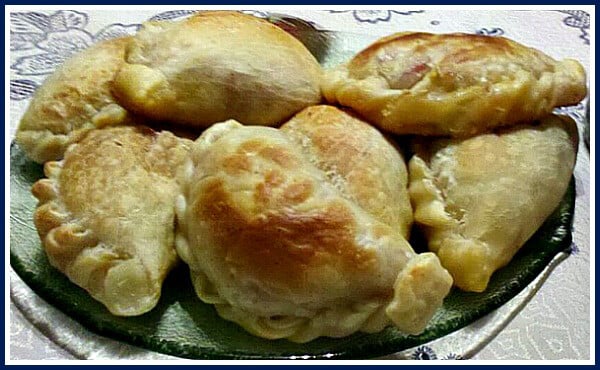 Empanadas de Humita (Sweet Corn–Stuffed Pastries)
2 cups frozen corn, thawed
1/4 cup chopped green onions
1 Tbsp. vegetable oil
1/4 tsp. smoked paprika
1/2 tsp. salt
1/4 tsp. black pepper
1/4 tsp. cayenne pepper
1/2 tsp. garlic powder
1/2 Tbsp. lemon juice
8 6-inch store-bought empanada wrappers
Preheat the oven to 400ºF.
Combine the corn, green onions, and oil in a skillet and cook on medium heat for 2 minutes.
Add the paprika, salt, pepper, cayenne, garlic powder, and lemon juice and cook for 5 more minutes.
Remove from the heat and place in a food processor. Lightly pulse, leaving a chunky texture.
Prepare the empanada wrappers according to the package directions.
Place 1 to 2 spoonfuls of the corn mixture on an empanada wrapper. Fold the dough in half and crimp the edge with your fingers or a fork. Repeat with the remaining wrappers.
Bake until golden brown, about 12 minutes.
Makes 5 to 6 servings
Are you ready for savory, sweet, flaky goodness?
More of my favorite south-of-the-border selections:
Related Posts
Respond
In This Section