Best Dishes to Take to a Nonvegan Party
The following article was written by Keegan Baur. 
You've been invited to a friend's fabulous fête, but you're afraid that there won't be any vegan fare there. No worries! Here are some quick tips to remember and a couple of recipes that you can whip up and take along.
If, prior to the party, the host asks, "What can I get for you?" graciously thank him or her for their hospitality, and then suggest a couple of easy items that omnivores and vegans all enjoy: tortilla chips with salsa and guacamole, pita bread and hummus, a vegetable and/or fruit tray, and pasta salad made with vegan dressing.
Ask the host if it would be OK for you to take a dish or two of your own. Usually, your inquiry will meet with an enthusiastic reply in the affirmative.
When selecting and preparing your dishes, keep in mind that many omnivores are turned off by faux meats and cheeses. It's probably best to stick to plant-based items that they won't even notice as being vegan.
So you've been given the go-ahead to take a dish or two to the party. What should you prepare? Here are two cruelty-free appetizers that are sure to be crowd-pleasers: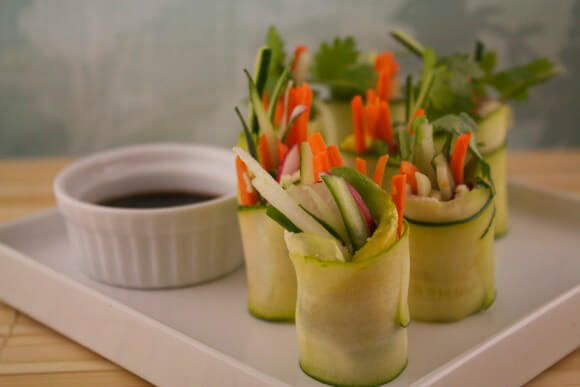 Everyone likes sushi, right? These veggie rolls are a light and healthy snack, and they taste divine when topped with sesame seeds and teriyaki sauce.
1 cup raw cashews, soaked overnight
2 Tbsp. rice vinegar
3-4 zucchinis
2 large carrots, cut into matchsticks
1 cucumber, seeds removed and cut into matchsticks
4 medium radishes, thinly sliced
1 avocado, peeled and sliced
1 small bunch cilantro, chopped
Sesame seeds (optional)
Teriyaki sauce
Drain the cashews and put them into a food processor with the rice vinegar. Process, scraping the sides with a spatula if necessary, until you have a soft paste with some texture. If you need to add a tablespoonful of water to achieve the right consistency, then go for it!
Chop the ends off the zucchinis and use a vegetable peeler to peel into long, ½-inch-wide strips. These should be very thin and transparent-looking; if they're too thick, they won't roll!
Lay a single zucchini strip flat and add a small spoonful of cashew mixture onto one of the ends. Add some carrot, cucumber, and radish, avocado, and cilantro.
Starting at the filled end, carefully and tightly roll up the zucchini strip. At the end, press firmly, and the strip will stick to itself because of the zucchini's moisture.
Arrange your rolls on a plate and sprinkle with sesame seeds.
Add a dish of teriyaki sauce for dipping.
Makes approximately 22 sushi rolls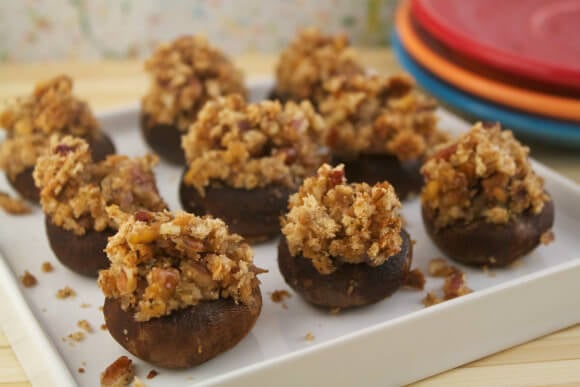 These mushroom treats are a little more filling than the zucchini sushi rolls, and they're also fairly healthy and just as delicious. Hope you made extra!
1 tsp. vegan butter or margarine
1/3 cup raw, chopped pecans
3/4 cup freshly made whole-wheat bread crumbs (approximately 1 slice of bread)
1 Tbsp. olive oil
1/3 cup finely chopped onion
2 cloves garlic, minced
3-4 oz. extra-firm tofu, drained and mashed in a bowl
1 tsp. balsamic vinegar
1 tsp. nutritional yeast
1/2 tsp. dried oregano
1/2 tsp. salt
1/4 tsp. pepper
16 oz. baby portobello (or crimini) mushrooms (about 20)
Preheat the oven to 350°F.
Melt the vegan butter in a small bowl and toss in the chopped pecans, mixing until evenly coated.
Spread the pecan pieces in a single layer on a baking sheet lined with parchment paper.
Bake for 5 to 7 minutes until aromatic.
While the pecans are cooling, break the slice of bread into pieces and add to a food processor. Process for about 10 seconds until you have only crumbs.
Place the bread crumbs and cooled pecans into a large bowl, mix, and set aside.
Heat the olive oil in a skillet. Add the onions and garlic and sauté for about 5 minutes, until soft.
Add the mashed tofu, balsamic vinegar, nutritional yeast, oregano, salt, and pepper and stir the ingredients until the tofu crumbles are evenly coated. Cook for 3 minutes, then add to the bowl with bread crumbs and pecans.
If you turned off the oven, preheat it again to 350°F.
Pull the stems from the mushrooms.
Press a spoonful of filling into each mushroom cap, forming a mound on top.
Place the filled caps onto a baking sheet lined with parchment paper.
Bake for 15 to 20 minutes or until the tops are browned. Serve immediately.
Makes approximately 20 stuffed mushroom caps
I'm always looking for new recipes to try—what vegan finger foods do you like to take to nonvegan get-togethers?
Respond