Watch: Baked and Breaded Avocado Bites
These vegan avocado bites are baked instead of fried, making them a healthier option for avocado lovers everywhere!
How will you eat them? Try creating the perfect pairing by adding the bites to some fresh-cut French fries for a vegan version of "fish and chips," using them to accent a light salad with a citrus dressing, or layering them on a baguette with tomato, onion, arugula, and vegan mayo for an out-of-this-world sandwich.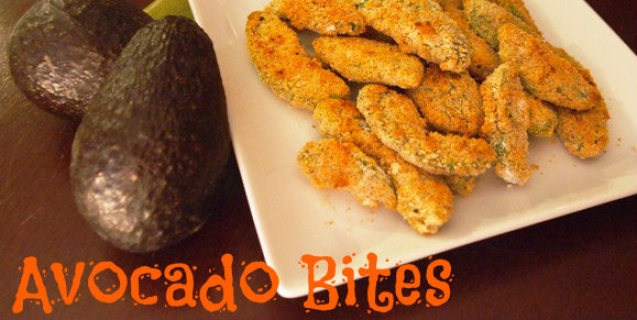 2 large Hass avocados, pitted, peeled, and sliced into bite-size pieces
1/2 cup Soy Milk
1 Tbsp. vegetable oil
1 cup panko bread crumbs
1/2 tsp. paprika
1/2 tsp. onion powder
1/2 tsp. garlic powder
1/2 tsp. salt
1/2 tsp. pepper
1/2 cup flour

Preheat the oven to 450°F.
Whisk the soy milk and vegetable oil together in a small bowl.
Combine the bread crumbs, paprika, onion powder, garlic powder, salt, and pepper in a small bowl and stir well.
Take a slice of avocado and roll in the flour. Dip into the soy milk and oil mixture, then roll in the bread crumb mixture until evenly coated. Place on a foil-lined baking sheet. Repeat until all the avocado pieces are used.
Bake for 20 minutes, rotating halfway through.
Serve immediately with your favorite dipping sauce, on a sandwich, or atop a salad.
Makes 2-4 servings
Notes
Try a gluten-free version by using an all-purpose gluten-free flour and crushed almonds in place of bread crumbs and baking for 12 to 15 minutes.
Like what you see here? Get more ideas:
Follow OfficialPETA on Pinterest!
Respond