Baba Ghanoush
Eggplant season is still about a month away, but I couldn't resist the urge to try my hand at baba ghanoush right now. The creamy Middle Eastern dip usually loses out to hummus when I have a choice between the two, but I'm not quite sure why. Baba ghanoush often has a lighter texture and more depth of flavor than hummus because of the eggplant (and the smokiness that sometime comes with it). So, I decided it's time to break free from the usual and test a recipe for the less common spread.
Baba ghanoush recipes are all very similar, and most revolve around eggplant, tahini, garlic, and lemon juice. Some garnish with cumin, some with mint or parsley, and, of course, you can't leave that healthy dose of olive oil off the top of your dip. It's also surprisingly easy to make, and it's surprisingly hard to mess up the flavors. Almost any ratio of the ingredients below will work great, so feel free to tweak it in order to get the baba ghanoush that's right for you. Enjoy!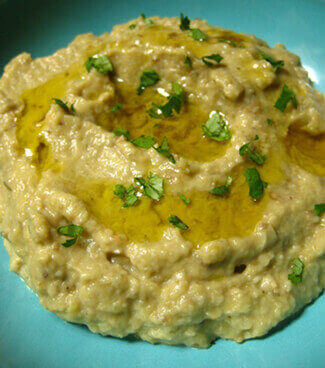 Baba Ghanoush
1 large eggplant
1/4 cup tahini
2 cloves garlic, minced
2 – 3 Tbsp. fresh lemon juice
Salt, to taste
1 Tbsp. chopped fresh parsley
1 Tbsp. olive oil
•Preheat the oven to 400°F. Place the eggplant directly on the rack and bake for 45 minutes to one hour, until soft. Remove from the oven and place the eggplant in a plastic bag (seal or twist closed) for about 10 minutes, then remove and gently peel away the skin.
•Transfer the eggplant to a blender or food processor. Add the tahini, garlic, and lemon juice and pulse until combined. This method will leave it slightly chunky. For a smoother texture, blend instead of pulsing.
•Season to taste with salt. Transfer to a small bowl and top with olive oil and fresh parsley.
Related Posts
Respond
In This Section