Vegan Shoe of the Month: Combat Boots
The following is a guest post by PETA staffer Royale.
Who is the vegan vixen?
She is strong, but compassionate; she is a lover and a fighter; and she is down for the cause and for causing a scene. In a word, she's a trooper. And this trooper is all about wearing her heart on her feet.
The lace-up combat boot is the perfect look for enemy-engaging, animal-defending dames. It's coming in hot this fall, and with plenty of vegan options, there's no excuse for animal casualties. Mid-calf or knee-high or buckled, zipped, or laced, each pair comes with a personality all its own. Just add activist.
So lace up, it's time to kick some fur-wearing, animal-experimenting, meat-eating derrière, ladies. Don't like our style, Nuclear Wintour? Tough chic.
And just so you know, the vegan versions are signified by the pink heart!
Kors Michael Kors Joplin Boot: $395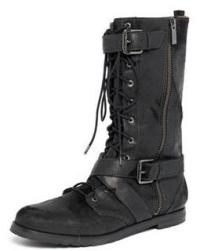 Be all you can be in boots that are cute and cruelty-free!
Forward march in fashion-forward footwear!
Rough-and-tumble reaches new heights … of compassion!
So which pair will you be giving cruelty the boot in? Tell me in the comment section below.
Respond