Everything Old Is New Again
The following article was written by PETA intern Gabby Bess.
Now that you've got your canvas shopping bag emblazoned with "Meat's not green!" and a reusable water bottle to match and keep you refreshed in the summer heat, you're going to need an equally refreshing (and vegan) summer wardrobe. Well, this season, you can skip the mall and expensive boutiques because you can find a new look at your local thrift store!
"Thrifting" is an eco-conscious way to shop. Plus, your local Goodwill or Salvation Army can be treasure troves of goodies, ranging from kitschy vintage finds to the latest summer trends.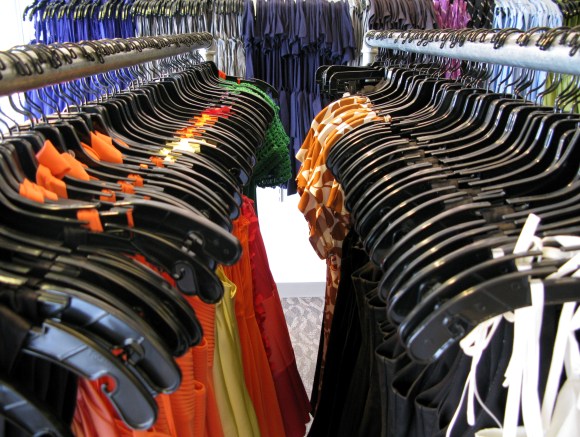 This summer, the trends include a boho-chic look: long, flowy maxi dresses, oversized sunglasses, tribal prints, and layers of accessories, which thrift stores have no shortage of! Also on the radar are 70s-inspired looks: high-waisted bottoms, wide-leg trousers, and sheer tops. What better place to get a 70s look than a thrift store where the pieces are actually from the 70s?!
But before you start shopping, check out my tips for vegan thrifters:
Thrift regularly and often. Many times, thrift stores will have days on which their already inexpensive merchandise is marked down even further. Bonus! It's also important to go regularly because thrift stores get new merchandise almost daily. You could be missing out on your dream vintage find!
Make a list of things that you are looking for in order to avoid random purchases. Sure, that vest with cats all over it is only 99 cents, but do you really need it?
Wear an outfit that is easy to wear while trying on clothes. Often times, thrift stores have limited dressing rooms, or none at all, so it's important to wear an outfit that you can easily put clothes over. I would suggest wearing a basic tank top and shorts or simple pants.
Check garments for small rips and tears and assess if it's truly worth fixing them.
Try to find shops off the radar. Goodwill and Salvation Army are fantastic, but smaller shops will have a more refined selection and fewer people to compete with.
Lastly, don't be afraid to dig in. Bring hand sanitizer if you need to, but don't be afraid to search through the racks and bins. It will totally be worth it when you find the perfect summer outfit!
And remember: Just because leather and fur items are vintage or secondhand does not mean that they are cruelty-free. But with our tips, you'll be on your way to finding a stylish and compassionate summer ensemble in record time and at a record price!
What's your favorite way to find animal-friendly fashions on the cheap? Share your style secrets in the comments below!
Respond