Animal-Free Circuses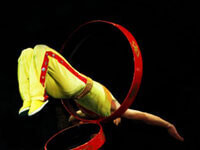 Ladies and gentlemen, boys and girls, children of all ages—are you ready for the latest show on Earth? Then step right up and treat your family, your friends, or just yourself (and your camera!) to a circus that features only willing human performers!
Animal-free circuses have all the thrills, chills, and fun that you expect from the big top—but none of the cruelty to animals. Prepare to be dazzled. Unlike depressed elephants and tigers who are forced to perform through beatings and shocks, talented human tightrope walkers, trapeze artists, jugglers, clowns, contortionists, acrobats, fire-eaters, musicians, dancers, and more put on a show for the love of performing.
There is an animal-free circus to suit every taste, from old-fashioned big tops to mini-shows in neighborhood parks to thoroughly modern productions in large venues.
Cirque Éloize, which is based in Québec, weaves traditional circus thrills—including awe-inspiring aerialists, precision juggling, and graceful acrobatics—into narratives, creating a dramatic, sophisticated blend of theater and circus.
Lazer Vaudeville dazzles audiences with high-tech black lights, lasers, and magic.
San Francisco's off-the-wall Circus Finelli—a "circus gone awry," in which four unruly female clowns court disaster—has audiences roaring with laughter.
For those seeking a more traditional circus experience, New Mexico's Circus Luminous features a flying trapeze, elaborate choreography, and a turn-of-the-century look.
These are just a handful of the dozens of animal-free circuses, most of which perform both at permanent venues in their home cities and on tour in locations around the globe. Check the circuses' Web sites to find out when and where you can catch a show. Click here for our full list of animal-friendly circuses.
In addition to being animal-friendly, many of these circuses are also community-friendly, putting on free shows in low-income areas, performing at fundraisers for charities, and offering circus camps for underprivileged children. In fact, the Russian American Kids Circus and the Circus of the Kids consist entirely of extremely talented kids!
The smashing success of these animal-free circuses proves that circuses don't need to use animals to wow crowds or make money. When you buy a ticket to one of these modern, humans-only productions, you're sending the message that cruel, outdated animal acts don't sell. So what are you waiting for? Why not treat yourself to an unforgettable show that everyone can enjoy!
Respond